WELCOME TO MY PAGES!
I am a free-lance illustrator (collectible card games, role-playing game books, prints and paintings) and a full-time computer game artist/animator (CD-ROM games). I also have many other interests (books, travel, music, art and conventions).
Please visit my Galleries to view some of my art for Card Games and Prints, my List of Cards I have done for various games, News for what's up with me and my rambling thoughts ---and my page of favorite Links! I have links to artists and art sites, Science Fiction, Gaming and Comic Conventions, games, books and authors.
These pages are Very Slowly undergoing construction. Please be patient. Feel free to inform me of any problems, missing links, suggestions, new links, etc.
---
NEWS-FLASH!!!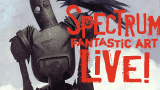 Link is still good for Spectrum Fantastic Art Live 2 (2013)
APPEARANCES-- I've just updated my Appearances Page. New this year-- Booth/Table at Spectrum Fantastic Art Live!
posted: Jan, 2013
---
SITE UPDATES
2013/01-- Updated: Appearances for 2013.
2012/01-- Updated: Appearances for 2012.
2011/03-- Updated: Appearances for 2011.
2010/07-- Updated: CCG Card List, L5R CE and Warlord 4th. Edition.
2010/05-- Updated: Appearances for 2010.
2009/06-- Updated: Appearances CHANGE: MAY NOT BE AT GENCON!!!.
2009/04-- Updated: News/Studio.
---
WHAT IS FOR SALE???
Unfortunately, I don't have a proper shop set up here. I am trying to figure out a good way to post what is for sale. Currently, I have many originals and a fair amount of digital and film prints on photopaper. Some of the images in the GALLERIES will indicate if I have prints or originals available, but my system isn't terribly exact, so please ask by email if you see someone you like. I will also try to indicate what prints I have in my LIST OF CARD GAME ART.
PRINTS are chromira and photographic prints, most are 8.5" x 11" for $27.00 each plus shipping (around $5.00 for Priority, in U.S.). They are all individually SIGNED and NUMBERED, limited editions. Please note down which images you are interested in and Inquire by E-mail: aprillee@lycos.com . If I don't answer, please assume the email was eaten by my awful spam-filter and try again, thanks!
ORIGINALS are all priced individually, running from $75.00 to $1,500, but averaging around $100 to $200. Please Inquire by E-mail: aprillee@lycos.com
---
THE COPYRIGHTS
Site's content is copyrighted to April Lee and various Companies where noted, 2007. Please Do Not Post Any of these images anywhere on the internet without permission--or use them for other purposes (including Tubes, Avatars, Icons and Altered Images). Many of these companies have legal departments that will defend their copyrights. Thank you for your consideration.
---
This Page was Designed by Summer Skies.