Links--April Lee's HIGHLY recommended places to visit!

In case you got here framed within a linked Page, my URL is: http://www.aprillee.com
Last updated (sort of! sorry for all the dead links!): Aug 03 (a bit)
MY OTHER ONLINE GALLERIES:
ASFA-Association of Science Fiction and Fantasy Artists-- Website Artists Gallery.
EPILOGUE, Fantasy and Sci-fi at their best -- Website Artists Gallery.
PEN & PAPER, RPG Illustration Gallery-- Gallery, RPG news site, store, etc..
ON-LINE INTERVIEWS and FEATURES:
Eclectic Babble and Other Musings-- OK... I've started a Blog, lemming that I am. I barely update this site, so I doubt my useless rambling thoughts will make it frequently to a blog...!
GUIDE DU ROLISTE GALACTIQUE-- Database listing of RPG professionals with photos, bios, etc., in French.
PEDESTAL MAGAZINE-Issue 11: Aug-Oct 02. -- Featured Artist.
SOUTH EMPIRE-L5R Newspage. -- Interview.
BRIEF ON-LINE CHAT-CHICON. -- at the World SF Convention.
COLLECTIBLE CARD GAMES I'VE WORKED ON:
"Sense Danger" from Dragon Storm.
DRAGON STORM (Black Dragon Press)
LEGEND OF THE FIVE RINGS (Alderac Entertainment Group)
MAGIC: THE GATHERING (Wizards of the Coast)
QUEST FOR THE GRAIL (Horizon Games)
SHADOWFIST (Z-Man Games)
7th SEA (Alderac Entertainment Group)
WARHAMMER FANTASY: WAR CRY (Sabertooth Games)
WARHAMMER 40K (Sabertooth Games)
WARLORD(Alderac Entertainment Group)
XXXENOPHILE (Slag-Blah Ent.)
RPG DATABASE-- April Lee's RPG Credits On the Pen and Paper site.
COMPUTER GAMES I'VE WORKED ON: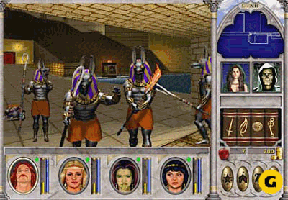 Screenshot featuring my 'Jackalman' from "Might and Magic 6", New World Computing © 97.
WAR OF THE RING --PC Game published by Sierra (V-U).
LIQUID ENTERTAINMENT --PC Game Developer.
3DO/NEW WORLD COMPUTING --Official Pages
MOBY GAMES--Rap Sheet--Person: April Lee--Auto-Generated Summary of Game Credits (incomplete).
I HAVE NO MOUTH AND I MUST SCREAM--game credits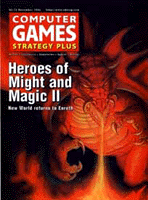 Magazine cover I did. Cover article on "Heroes 2", which I worked on.
GAMING AND OTHER STUFF I'M ASSOCIATED WITH:
OXFORD UNIVERSITY ROLE PLAYING GAME SOCIETY--It was called the OUD&D society when I was up at Oxford?
STEVE JACKSON GAMES--Publisher of GURPS and IN NOMINE and many other RPG books.
MARION ZIMMER BRADLEY'S FANTASY MAGAZINE--I have black and white story illustrations in the latest issue (#42, I think). The Magazine has ceased publication. The link will get you to the main MZB site.
VIRESSE'S GROVE--This is my site for my Asian Ball-Jointed Doll (BJD) hobby.
FANTASY AND SF ARTISTS:
HEATHER BRUTON--A celestial site of fantasy art, prints and originals, plus art from collectible card games and role-playing games. Heather is a multiple art show award winner and one of the best fantasy artist around.
NE NE THOMAS--Incredibly beautiful fantasy prints and CCG art from this well-known Magic artist. A MUST-SEE!
TARNISHED IMAGES--RUTH THOMPSON'S beautiful official site. If you've never seen her high fantasy prints and images you are missing out on one of the best!
L.A.WILLIAMS--Fabulous art, prints, card game and role-playing game illustrations of fantasy warriors, gorgeous women and wonderous beasties. Well worth checking out!
TERRIE SMITH--Premier illustrator of anthropomorphics; animator, comic book and fantasy artist.
DIANA STEIN--Naiad Studios. Strong, graphic, fun fantasy and anthropomorphic art from this multi-talented person.
LANTHRIS--THE WORLD OF FRANK GEMBECK--Popular fantasy and anthropomorphic artist who uses some of the most vivid and rich colors around in his whimsical imagery.
SIGIL FANTASY ILLUSTRATION--Courtly Ladies, dragons, fairies and more from fantasy artist Sigil (Stephanie Alford). Link broken. *sigh*
ROB ALEXANDER--Fine art, editorial, prints, game and book cover illustration.
RANDY ASPLUND--Art of the Fantastic.
DESTINI PRODUCTIONS/ED BEARD JR.--Fantasy art, prints, illustration and more.
THERESA BRANDON--Here is an artist who does fantasy art, card game art, book covers, and wonderful children's book illustrations. Another very fine site.
CRAIG R. BRASCO--Art Gaming and Concept Art.
(The Dark Art of)TOM BAXA--Fantasy art, prints, illustration, concept art for electronic games and film, storyboards, comics, art for Magic: The Gathering, White Wolf, D&D and much more.
PAUL CARRICK--A gallery of fascinating fantasy, card and game art, full-color paintings and very striking black and white images.
RONALD CHIRONNA--Incredible fantasy, SF, gaming, book, magazine and editorial art--strong, vivid color and accomplished B&W pieces..
BLISSDREAM: MICHAEL CLARKE--Art and Illustration.
STORN A. COOK--Illustration.
ED COX--Science Fiction and Fantasy art; bookcovers, prints, etc.
LIZ DANFORTH--Artist of many Middle Earth and Magic cards, one of the most prominent and talented people in the gaming industry as a whole.
DARK NATASHA--Top quality Anthropomorphic (Furry) and Fantasy Art.
SUE DAWE--Renowned illustrator of unicorns and pegasi, and much more. If you haven't ever seen her art, you must not have seen a lot of fantasy art!
ART OF KIM DEMULDER--Fantasy, comic book, pinup, science fiction, etc.
TONY DiTERLIZZI--Beautiful fantasy art in the tradition of Arthur Rackham. Another Magic Card artist whose skill trandscends the genre.
TINA DRUCE-HOFFMAN--Illustrator: Color and b&w fantasy.
PAM EKLUND--and David Jones: Rockhopper Studio--Illustration.
DARRYL ELLIOT--Some of the best monochrome/b&w art being created today--he also does card and gaming art, and much more. I think this link is broken, too.
LARRY ELMORE--His art has almost single-handedly defined Fantasy Role-Playing Game imagery; warrior men and women fighting treasure-hoarding, fire-breathing dragons, what more could you ask for?
CARL FRANK--Custom illustration for professional publishers: magazines, books, games, music.
DONATO GIANCOLA--Another favorite book-cover artist of mine. A great new talent in the F/SF field.
THOMAS GIANNI--Fantasy and Science Fiction Artist.
ADAM GLAZER--STUDIO INNER SANCTUM--Art and illustration.
ANDREW GOLDHAWK--Incredible paintings and drawings in the best traditions of fantasy art.
MATT HARPOLD--Fantasy art and illustration.
JON HODGSON--Illustrator.
QUINTON HOOVER--Brilliant artist with some of the strongest graphic styling around. Most known for his Magic Card art, but does work for comics, book and magazine covers, and more.
HEATHER HUDSON--Fantasy art and illustration; RPGs,CCGs, etc.
LISA HUNT--illustrator/author of Celestial Goddesses, The Celtic Tarot, Shapeshifter, etc.
LLYN --LLYNSPLACE: Illustration.
IGINO--Fantasy and Science Fiction Art: Online portfolio.
HUGH JAMIESON--Very hot fantasy and game illustrator.
JEREMY JARVIS--Great Illustration site: Editorial, book, fantasy, young adult, beastiary, armory, prints and originals for sale.
VERONICA V. JONES--MoonShines--fantasy art.
MICHAEL WILLIAM KALUTA--One of the greats of contemporary illustration; fantasy, sf, comics, book covers--he does it all.
AVI KATZ--Art and Illustration from Israel.
CHRIS KEEFE--Pen & Ink, color, graphite and RPG art. Broken Link...
TOM KIDD--Also known as "Gnemo", he's created some of the most splended cityscapes recalling a fantastical, steam-punky Gilded Age that never was... And a breath-takingly great painter, creating imagery is well-rendered and fabulously detailled as anyone working today--or even in the past. He's also done numerous book covers.
STEPHANIE PUI-MUN LAW--Shadowscapes--lyrical fantasy art.
CHUCK LUKACS--Illustration-- also: EARTHENWOOD.net--with some of the coolest fairy/mood/goddess/nature ceramic beads and charms I've ever seen.
THOMAS MANNING--Fantasy and collectible card game art and more by this talented artist.
MARCI MC ADAM--illustration and cartooning, furries and comic art. If that link doesn't work, try: http://www.frithcat.com/
MALCOLM McCLINTON--Hanged Man Studio--Art of the Fantastic.
KEN MEYER JR. --Fantasy, gothic, sports, music, game art and illustration and prints.
RAVEN MIMURA--Fantasy Illustrator: Great gritty, gothic-horror color and b&w work. I think this link is broken, though...
MICHAELA NASTASIA--Beautiful Dark-Fantasy women--and great photos of Michaela herself grace this wonderful site. Plus many great links.
MARGARET ORGAN-KEAN--Fantasy, game art, editorial, children's book illustration.
RAMON PEREZ--Calavera Studio.
SLOTH PRODUCTIONS--Fantasy art and illustration by MICHAEL PHILLIPPI.
ERIC POLAK--Illustrator: digital, B&W, paintings.
rk post--A top fantasy and game artist; check it out.
ALAN RABINOWITZ--Illustration & Fantasy Art.
THE ART OF ERIC REN--Fantasy, game and SF tech art.
REBECCA SCHUMACHER--Fantasy Sculpture, Illustration and Portraiture.
DAN SCOTT--Fantasy, SF, Game art and illustration.
INFINITE BRUSH STUDIO--Pencils, inks, oils, prints, digital art.
TAMING LIGHT----The art of Robert Steinman. Illustration, Concept Design, Graphic Design, plus mainstream non-fantasy art and design.
WILLIAM STOUT--One of the greats of contemporary illustration; fantasy, sf, comics, book covers--and dinosaurs!
STRANG-FROST PRODUCTIONS--Fantasy and comics art; commissions and prints.
JENNIFER SWIDERSKI--Fine Art, Magical symbolism, surrealism, visionary art. Broken Link!
LUART-ART OF LUIS VAZQUEZ--Fantasy art and illustration.
THE FANTASTIC ART OF VINANTI--Color and monochrome fantasy, wester and sports art.
ANTHONY WATERS--Fantasy, game, and concept art.
WHERE EVERY DAY IS HALLOWEEN--ART BY KIPLING WEST--I bought her Halloween Tarot, which is just adorable! I'm a big "Nightmare Before Christmas" fan, and this artwork is just the thing!
MICHAEL WHELAN--The star of SF/F book cover artists. He's got prints, books, and fine art --everything.
MATT WILSON--One of the best game artists around--great fantasy art and illustration.
ROBIN WOOD--Known for Dragon Magazine cover art years ago--now she's updated, doing her fantastic imagery in 3D-CG.
FANTASY, SF, ETC. (ART SHOW) ARTISTS:
FLYING ARMADILLO--Art and commissions.
FANTASY, SF AND GAME ART GALLERIES AND ART INTERESTS:
ELFWOOD--Welcome to the largest SF&F art and fiction site in the world! We have over 100000 original SciFi&Fantasy pictures, and 8500 stories online! There are 5748 fantasy artists with 92121 pictures, 1130 sci/fi artists with 14270 pictures, and 1348 writers with 8930 stories.
EPILOGUE--Another huge SF&F art site. Whereas Elfwood is for the amateur, this site is juried and emphasizes quality.
SLAWEK'S ULTIMATE GUIDE TO SF/F/SPACE/SURREAL ART ON THE NET--Which pretty much says it all! 700 listings.
CHIMERA PUBLISHING--Fantasy art prints galore.
WORLDS OF WONDER--Fantasy art, professional, for sale.
WORLD FAMOUS COMICS--Great site on comics overall, but this link goes to the lists of Science Fiction and Fantasy Illustrators whose links are listed there.
ASFA--The ASSOCIATION OF SCIENCE FICTION AND FANTASY ARTISTS. A non-profit organization run by SF/F artists and afficionados. They publish a Quarterly magazine with information of interest to those in the field, professional and amateur alike, listings of art shows and opportunities, and articles. A worthwhile organization to be a member of and to support.
ILLUSTRATION*NET E-Mail List--A mailing list for Fantasy, SF, Comics, Games, etc., Professional, Working Illustrators. Membership must be approved. Do not request membership unless you qualify.
SCIFI-FANTASY-HORROR-SPACE-ART-SHOWS-- E-Mail List--A mailing list for Fantasy, SF and Horror, etc., artists, with an emphasis on convention art shows; information and discussion. Open Membership.
THE DRAWING BOARD FOR ILLUSTRATORS--Site with resources and discussions for Illustrators.
ARTIST HELP NETWORK--Artist Help Network(sm), a free information service designed to help artists take control of their careers. The network assists artists in locating information, resources, guidance, and advice on a comprehensive range of career-related topics. The network focuses primarily on subjects of interest to fine artists. People working in the applied arts, arts administration, and arts-related fields will also find this site useful.
PEN & PAPER--A collection of resources for pen and paper RPGs--news, database, art gallery, message board, shop.
CONCEPTUAL DESIGN FORUM--Message board for conceptual design artists--and related fields.
RPGnet--Message board for freelancing and freelancers in the RPG field.
FANTASY ART AND ARTISTS--COMPUTER GAME AND DIGITAL ART:
TRACY IWATA--One of my co-workers at New World Computing, Tracy has designed and drawn or modeled and animated most of the dragons in Heroes 2 and 3 and M&M6 through 9, plus unicorns and minotaurs and more than I can name here.
STEVE WASAFF--Another one of my co-workers at New World Computing--he's now at Red Storm Entertainment, Steve is also a character animator. He created the Beholder for M&M6, plus the demon and the orc, and many other monsters. This page is pretty old, Steve!
JEFF BIGMAN--Also a New World artist, the homepage of the Fabulous Jeff Bigman contains game art, conceptual designs and photography.
JEFF BIGMAN'S PLANS FOR DUMMIES--Site to get plans for stuff...
SHELLY M. GARCIA--Computer artist 2D and 3D, animation layout artist, water-colorist, costume-maker and now web-page designer. Link broken.
THOMAS HOWELL--Computer game artist, fantasy artist and sculptor. Really old page...
JHONEIL M. CENTENO--SF/Fantasy illustrator and Fine Artist, who is also a fellow computer game artist and graduate of Art Center College of Design. Hmmm... I really should move this to the SF/F section!
COMPLEMENTARY COLOR--THE ART OF LOUIS HENDERSON--Lou can do it all: 3D modeling and animation for games, fine art, commercial illustration, digital and traditional media. Check out his website.
SONAMBULO!!!--This is the ultra-cool comic book by Rafael Navarro. It's only in this section because I used to work with Rafe at Dreamers Guild where he did 2D computer work and concept and storyboard art.
INFORMATION ON COPYRIGHTS AND THE INTERNET:
COPYNO --Offers a javascript which disables right-click and sends the potential thief to an informationsal site. $20 for continued use after free-trial. I haven't tried this, but something like this is more and more necessary, since so many people feel that anything up on the net is up for grabs (sadly!).
GREYDAY --Site that poses the question--what if copyright infringement on the internet becomes so bad that no one dares put up images they care about? Plus links, and an interesting way to bring this possible problem more attention.
COPYRIGHT IN VISUAL ARTS --Franklin Pierce Law Center site.
COPYRIGHT PRIMER FOR ARTISTS --From the National Endowment for the Arts.
CONVENTIONS (SF, FANTASY, COMICS, GAMING, COMPUTER ART, ETC.):
GEN-CON, GAMING CON 2003 --The major gaming (role-playing, collectible card games, etc.) convention held annually in the summer. Indianapolis.
CONPULSION, GAMING CON 2003 --March 15-16. Edinburgh, Scotland. Gaming Con.
TORONTO WORLD SF CONVENTION 2003 --TORCON--The major science fiction (mostly literary, but some media) convention held annually.
BOSTON WORLD SF CONVENTION 2004 --NOREASCON--The major science fiction (mostly literary, but some media) convention held annually.
WORLD SCIENCE FICTION SOCIETY --WORLDCONS, overall information on the major science fiction (mostly literary, but some media) conventions held annually--usually over Labor Day Weekend.
SAN DIEGO COMIC CON INTERNATIONAL--Huge Comic (and other media) convention held annually in San Diego in the summer.
NORWESCON--Annual SF convention held in the Seattle-Tacoma area in the Spring.
CONFURENCE --Annual Anthropormorphic (Furry) con--in Southern CA, springtime .
FURTHERCONFUSION --Annual Anthropormorphic (Furry) con--in Northern CA, springtime .
DRAGON*CON --Major Comic/Gaming/SF/F Convention held annually in Atlanta.
CON-DOR --Small SF/F Convention (very much a relaxacon) held annually in San Diego in the early spring.
SCIENCE FICTION CONVENTION WEB-RING --for sf/f cons.
ELECTRONIC ENTERTAINMENT EXPO --Annual Expo for retailers, companies and people (professionals only)involved in games and other electronic fun stuff.
GAME DEVELOPERS CONFERENCE --Rocking conference for everyone involved in developing (electronic) games-- held annually in No.CA in the spring.
SIGGRAPH Conference and Organization for Computer Graphics.
HISTORY:
REGENCY PAGE--Sources and Links and Information on this wonderful period of English History (early 19th. Century).
RICHARD III SOCIETY--England's King Richard III--for the revisionists who think Shakespeare was a Tudor propagandist.
LITERATURE:
JANE AUSTEN INFORMATION PAGE--more!
LOIS MC MASTER BUJOLD--Award-winning writer of the wonderful Miles Vorkosigan SF series.
C.J. CHERRYH'S OFFICIAL PAGE--Award-winning writer of too many amazing SF/F novels to mention!
DOROTHY DUNNETT PAGE--One of the greatest authors of historical fiction. An unparalleled pleasure to read.
GEORGETTE HEYER--THE best writer and originator of the Regency Romance--gems, every one of her books!
JANE FANCHER--SF/F author and artist (the best kind of combination, to my mind).
J.R.R. TOLKIEN--One of many sites about this premier author of epic fantasy.
LORD OF THE RINGS--THE MOVIES--Official site--lots of gorgeous art, just wonderful film experience.
PATRICK O'BRIAN--Terrific author of the Aubrey/Maturin series of adventures set in the Royal Navy during the Napoleonic Wars.
PATRICK O'BRIAN--More web resources about this great author.
SEAROOM--Books & prints, concerning the days of sail, Patrick O'Brian (also a Mailing List), nautical fiction, etc.
ANNE RICE Official Pages--Mystical, erotic, gothic fiction from this best-selling author of "Interview with the Vampire".
KATE ROSS--Author of the fabulous Julian Kestrel Mysteries set in the late Regency Period, England.
LAURA JOH ROWLAND--Author of intruguing mysteries set in 17thC. Japan.
SOME BOOK REVIEWS--If you're interested in my kinda casual reviews of some books (who knows why???) check this out.
MUSIC:
The Cure's Robert Smith.
THE CURE--My favorite band! Their Official Page.
LOREENA MC KENNITT--One of the best musicians/vocalists doing celtic/contemporary/world music today!!!
AVALON RISING--Folk/celtic/filk music.
HEATHER ALEXANDER--Folk/celtic/filk music.
OURS--Alternative. Really loved their first album, waiting for the second...
FRIENDS:
BRUCE'S PAGES--computer game and web page guy (he helped me with these pages!)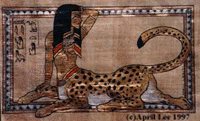 Hmm? somehow I don't think this is a traditional papyrus?
ANCIENT EGYPT--come on, isn't it interesting to everyone???
ART CENTER COLLEGE OF DESIGN--This is where I got my BFA in Illustration. Some people love it, others hate it. But it is one of the few schools that has top level programs in Illustration and Graphics and Transportation Design, etc.
OXFORD UNIVERSITY--As hard as this may be to believe, I actually have a BA/MA from Oxford (a member of St. Hilda's College). I matriculated in '80 and read Modern History, special subject-20thC.European, and was far from brilliant on my Final Exams, but at least it wasn't a Pass (and there were extenuating circumstances, I swear!).
MOUNT HOLYOKE COLLEGE--Located in the beautiful setting of South Hadley, MA, this is one of the finest Liberal Arts institutions in the US, one of the Seven Sisters, one of the earlier colleges founded, and definitely one of the first and last all-women colleges. I have wonderful memories of my time there.
UNIVERSITY OF EDINBURGH--While I don't have a degree from here, I did spend my Junior Year Abroad at this great university located in the midst of the majestic city of Edinburgh, Scotland. Majestic, what with the Castle looming over Princes Street, and with Holyrood Palace not that far away...
WEBSITES WITH LINKS TO MINE:
ROKUGAN 2000--And idea before its time: Legend of the Five Rings in modern/future times! Lots of art and stuff for the L5R fan.
NAPOLEON SOUP BANDS--The site of a cool band--music, info... and links to art!
EVERMIND'S MIND MELD--An extensive personal site with fiction, information, art and, of course, links!
HOME OF GOD!--Fantasy art gallery, links, and more.
ART BY OLIVIJA--Fantasy art, various media.
HEY--if you have a link to my site--E-mail me with your URL and I'll try and link you up here!!!
RESOURCES
YAHOO GROUPS--Host of (free) E-Mail lists.