----------------------

The Studio !!! Or what's happening in my messy life...

--ACTUALLY--THIS IS NOW THE OLD STUDIO--I've put some of this on the NEW pages--but this goes back before the events of this year...

To get back to the Primary Studio:THE STUDIO

(updated June 1999)

APRIL LEE-ENTRY PAGE | APRIL'S BIO PAGE |CARD ART GALLERY | PRINT ART GALLERY | CARD LIST| LINKS

What's on the Drawing Board?

Convention Appearance:
CONCUSSION --June 4-6, Omaha, NE. I was Artist Guest of Honor here. GOH was award-winning SF author Connie Willis--one of the friendliest and interesting persons I've met in ages. I had a terrific time at this convention. There was a trip to the Jocelyn Art Museum which had some lovely Bourgeureau's and an Alma-Tadema in it's collection. I had time to have someone demo L5R for me, and I played in a nice L5R RPG demo. I painted a new painting for their program book--I'll try and post an image somewhere soon, and will be making prints of some kind.

Next Convention/Appearance--It'll be GENCON in August. That will take some preparation for me! For more information see my Appearance or Link pages.

CARD ART--Assignment for a new card game based on Robert Jordan's Wheel of Time fantasy series. Art due in July.

I have added art from the latest game, "Might and Magic 7"--not due out for a while--on Page 4 of: CD-ROM COMPUTER GAMES ).

I was totally exhausted after 1998, which found me rushing to do a lot of art right at the end of the year. Early 1999 was spent recovering and being a panelist at ConDor, and just a plain attendee at ConFurence (see my "Appearances" page.)

I just finished 3 cards for an expansion for LEGEND OF THE FIVE RINGS in April.

Upcoming: I just got an assignment for 4 cards (all I could manage!), for the new CCG, SEVEN SEAS, brought to you by the fine folks at L5R/AEG. It's set on the high seas during the time of Pirates (yes, there are still pirates now, but you know what I mean! ---ARRRRRRGH! PYYYYYRATES!!!).

I'm still waiting, and others, too, I'm sure, for MIDDLE EARTH's Balrog expansion to come out...
What else is going on? (and basically making my life complicated!)

Darn it! NOTHING! I have no life... *sigh*
Conventions--?

See above regarding CONDOR, CONFURENCE and CONCUSSION (especially CONCUSSION!!! ConCussion and GenCon will be the best cons to see me at).

GENCON (Aug., Milwaukee, WI), the big gaming convention, is a go again this year! I'll be sharing a booth with the fantastic artist Liz Danforth (see my Links page for her site).
Computer game--?

MIGHT AND MAGIC 7-- CD-ROM GAME--is done as far as the art goes. I did a bunch of the items you can pick up while adventuring--weapons and magical items and such, and a few entry scenes. Look at my CD-ROM GAME ART Page 4 for some images.
What's going on in the Real World? (What real world???)

Lots of bad news... RE: KOSOVO--it may not seem important, but ethnic cleansing is NOT something that should be ignored. Also, those who know history are aware that the two great World Wars can be traced back to an ignition point in the Balkans... The world is smaller than you think!

RE: massacre in Colorado--Ummm... can we at least TRY and watch kids well enough that we can catch at least some of the ones that might explode? And hell, watch our adult friends and neighbors and relatives, too! Plenty of guys "just snapping" and killing folks. And can we STOP thinking that "it can't happen here/to me/to whatsisname, the nice quiet guy who lives down the block"??? I know it's an ugly thing to think about, someone who seems normal who actually is thinking of killing himself or others, but thinking about it and acting on what you learn just may save your life and others--AND help the poor guy who is so depressed, angry and suicidal!

RE: Horrible tornados in Oklahoma and Kansas... Much concern and prayers! And perhaps a nice donation to the Red Cross?! Nature is inconceivably powerful (which I am aware of, living in California!). What we can do is not mess about with the ozone layer too much and be grateful for every day we are able to enjoy...
Here's the OLD NEWS:

Attended Norwescon in Seattle/Tacoma in April, 1998. This was a very fun con, very lively, lots of people there, many, many Goths, which I like. GREAT guests: NEIL GAIMAN (I'm a huge fan of "The Sandman"; I got a copy of _Neverwhere_ signed) and BRIAN FROUD (again, I'm a huge fan of his work). I enjoyed participating on some very interesting panels on art and computer art. Sold some prints in the art show (some very odd rules for the art show, but they didn't really affect me). Bought a framed print of "Fairy of Ravens" by NeNe Thomas (link to her wonderful site is under Fantasy Art and Artists on my Links page), and lovely jewelry by Nicola Pauline. And all in all enjoyed myself a lot.

Went down to San Diego for CON-DOR at the end of February. Had a few pieces in the show, and participated in two panels. My next con will be Norwescon in April.

ConFurence was held January 15-18 in Buena Park, CA… I had art in a black and white Portfolio called Myths and Legends, along with other artists (TERRIE SMITH, MICHELE LIGHT, HEATHER BRUTON, DIANA STEIN, FRANK GEMBECK & JOYCE NORTON), on sale there… It's $15.00 Contact me for more information.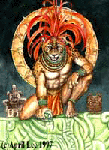 Here's one of two pieces I've done for the portfolio. I'm doing creatures from Latin American(Pre-Columbian) Mythology. The portfolio will be black and white. Please contact me if you'd like one.

HEROES OF MIGHT AND MAGIC 3--At New World Computing we are finishing production on this game. Hopefully it will continue the success of the previous versions! I created a few characters/monsters for this game (I worked on the same thing for HEROES OF MIGHT AND MAGIC 2). This time, modeled in 3D! But about half the time I was switched around on various parts: artifact icons, some of the buidlings in the Adventure Screen, some of the obstacles on the Combat Screens, etc. I have just heard that the official release date has been rescheduled to February 1999, which is a pity.
I modeled a portion of this guy for "Heroes of Might and Magic 3" (copyright New World Computing/3DO 1998).

MIGHT AND MAGIC 6--MANDATE OF HEAVEN CD-ROM GAME--IS NOW OUT!!!! And it seems to be selling well--on the tops of the sales charts when it was first released. Reviews have been primarily positive, as well. I modeled and animated the Female Archer, Sorcerer, Jackalman, Dwarf, Druidess and Water Elemental.

On the Presidential scandal: I'm tired of it. I voted for Clinton and would vote for him again. Not because of who he sleeps with, but because of his policies.

I have been very sad and depressed since learning of the death of one of my favorite authors, KATE ROSS, who wrote historical mysteries set in the Regency period. I had looked forward so much to reading each new book and hearing news of her tours and other doings. It is just so sad when so much potential is lost, especially since she was young and had so many years ahead of her. But it is sadder still, of course, for those who knew her well... I have a link to her pages in my links site under "Literature." Her books are highly recommended.

New CD--"Book of Secrets" by Loreena McKennitt is now out. A bit short and not as incredible as her last two, but STILL WORTH THE MONEY AND MORE!

New CD--"Galore" by The CURE. It's their second compilation of singles, plus a new single. They came out to Los Angeles to promote it, and if you've EVER tried to get to some sort of Cure show or appearance in L.A. you'll know you're gonna have to compete with about 10,000 other people at the very least (they fill STADIUMS--big ones!--when they play here), so I had zilcho chance of seeing them at the Virgin Megastore in Hollywood, OR get a ticket for the 500-person venue they played. (BIG * SIGH *) --I did see 'em on the Tonight Show… (but, blah, I dislike Jay Leno! It's Letterman all the Way! … only for The Cure…!)

I'm currently enjoying: The Smashing Pumpkins--"Adore", Garbage--"Version 2.0", Fastball--"All the Pain Money Can Buy", Angels of Venice--"Awake Inside A Dream", Avalon Rising--"Avalon Rising", and Hole's new CD.

Fans of NewAgey/Celtic music--check out "Sons of Somerled" by Steve McDonald. Beautiful stuff composed around the MacDonald clan of Scotland, with traditional tunes mixed in with new music, and beautiful vocals. I'd also like to recommend PILGRIMAGE "9 Songs of Ecstasy". It reminds me a bit of Enigma, but without the strong dance-beat.

New book by Anne Rice--about the vampire Armand. The last vampire book, Pandora, I still need to get ahold of. I just ordered signed copies of both from The Garden District Bookshop in New Orleans. (Links via Anne Rice's Official Page.)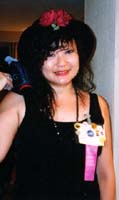 Old photo of me at the World SF Con (Magicon) in Orlando, FL in '92--when people wore hats with silly red flowers on them and held sparkly-blue fish puppets on their shoulders...?!?
Hey, ya wanna chat???

Well, not exactly chat--but feel free to e-mail me--or sign my guestbook. (Links farther down page.)

Join SORD AND SWORCERY APA (focusing on original SF/F/SS fiction and art) --ask me for details.

Go to SCIFI.com--the Science Fiction Channel Sponsored Page-- and post a message under the Art/Graphics topic on the BB there.

Go to SALON'S Table Talk Bulletin Board and post in BOOKS--I'm usually looking in on topics to do with mysteries, romances, SF/F, etc.

Go to my links page and find the "Patrick O'Brian" mailing list--SEAROOM. I'm on that (on and off, anyway).

Go to my links page and find the "Georgette Heyer" mailing list. I'm on that.

Join the Computer Game Artists mailing list. I'm on that.

I will also sign CARDS I have done, as long as it is under 15 at a time and you enclose SASE with appropriate postage. Look up my address in SCRYE MAGAZINE or e-mail me.

Join Tower Mountain--an Elfquest holt (fans writing stories and drawing art based in the Elfquest world. I'm a member.

Find me at a convention (see Home page for APPEARANCES, and Links page for information on the internet).

I love talking art and games and computer art and books, etc.

Make LINKS to my page and I'll reciprocate!

In case you've got here within another's website, this Page's address is: http://www.geocities.com/Area51/Rampart/7228/
Click here to sign my Guest Book
APRIL LEE-ENTRY PAGE | APRIL'S BIO PAGE |CARD ART GALLERY | PRINT ART GALLERY | CARD LIST| LINKS
E-Mail:
april@geocities.com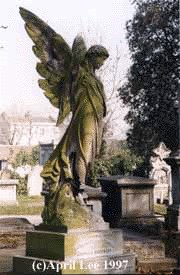 Kensal Green Cemetery, London.
Highgate Cemetery, London
Two photos of many which I took on my brief trip to London in March (to visit friends and attend the Oxford University RPG Society 20th. Anniversary Banquet).
I will probably be producing a print edition of some of these when I can get around to it.
N.B.--sometimes the HYPERLINKS aren't working too well... Sorry! If you link onto something strange, just hit BACK and try it again. And please tell me if any of the links to other sites are outdated! Thanks! Also, apologies for the stupid geocities advertisements floating about when you open my page...*sigh*