Soom is a relatively new Korean doll company that has been creating lots of excitement with its amazing Montly Dolls (MDs, for short, limiteds that are available for sale for a month only), with a fantasy-zodiac theme. One of the more popular offerings was the May Montly Doll: Sard, A Night's Odyssey, a incubus with the beautiful 65cm Supergem body, alternate hooved legs, horns, and a head based on Soom's Dia sculpt. And he has white skin and pointy ears, which clinched the deal in my case (all my CP dolls are white skinned elves).
I love demons... not the nasty, evil kind found in religion, but amazing fantasy fallen angels or beings. The name Araqiel is from a list of fallen angels listed in the Book of Enoch and means "Earth of God."
NAME: Araqiel Iolath Chalcedony, Lord Sardonyx; Demon Lord, Elder God--God of Creation, Demon of Destruction. (Araqiel, fallen angel name; Iolath after a demon in my writings; Chalcedony, a type of stone; Sardonyx, semi-precious stone--Soom Supergems are named after stones, hence the model name, Sard).
COMPANY: Soom, DollSoom (Korean based co.)
SIZE: SuperGem (~65cm size, larger than Volks SD-13)
HEAD SCULPT: Soom MD Sard, A Night's Odyssey (very similar to the Soom Dia head).
BODY SCULPT: SuperGem Male
SKIN TONE: White Skin
MAKEUP (Faceup): Default Soom Sard; body blushing: Soom Sard
PURCHASED FROM: Soom
PURCHASE DATE: June 2008; Original Owner CAME WITH: Human legs and hooved legs. Horns. Magnets. Hooks for hooves.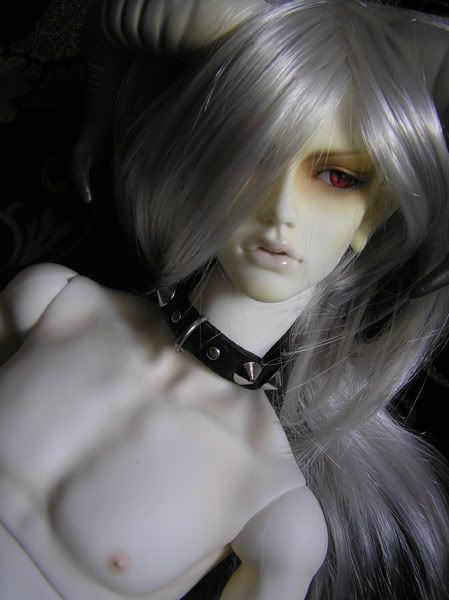 First photo-shoot. With Dollmore acrylic 14mm cat eyes. Unknown maker wig.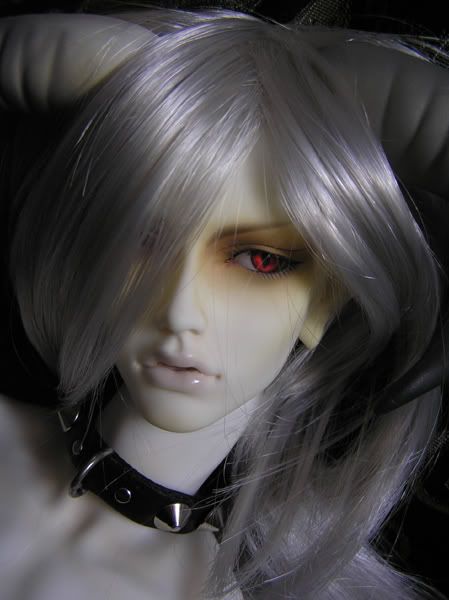 Love the red eyes.

Moggie's Toyshop collar.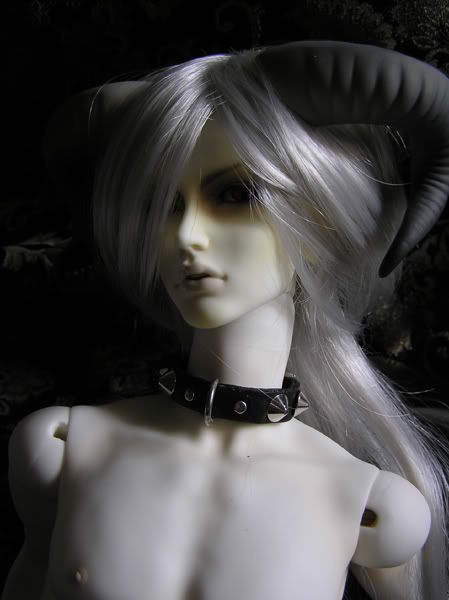 Looks like a b&w photo, but not.

Wearing Tous Les Garcons outfit, jpop wig, dollmore eyes, brighnasa commissioned choker.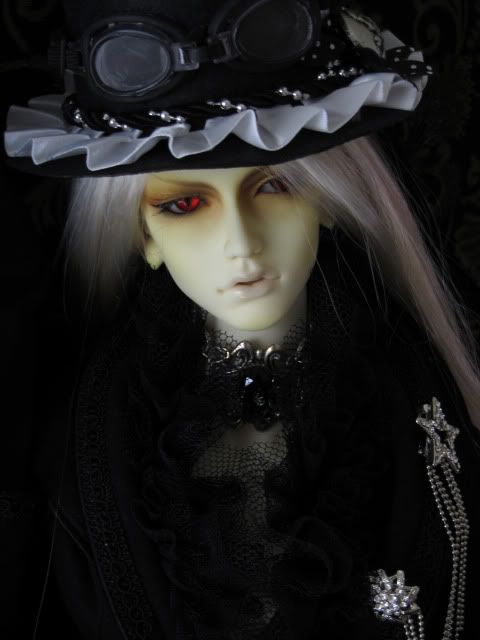 Wearing Tous Les Garcons outfit, jpop wig, dollmore eyes, brighnasa commissioned choker, tata's goggles.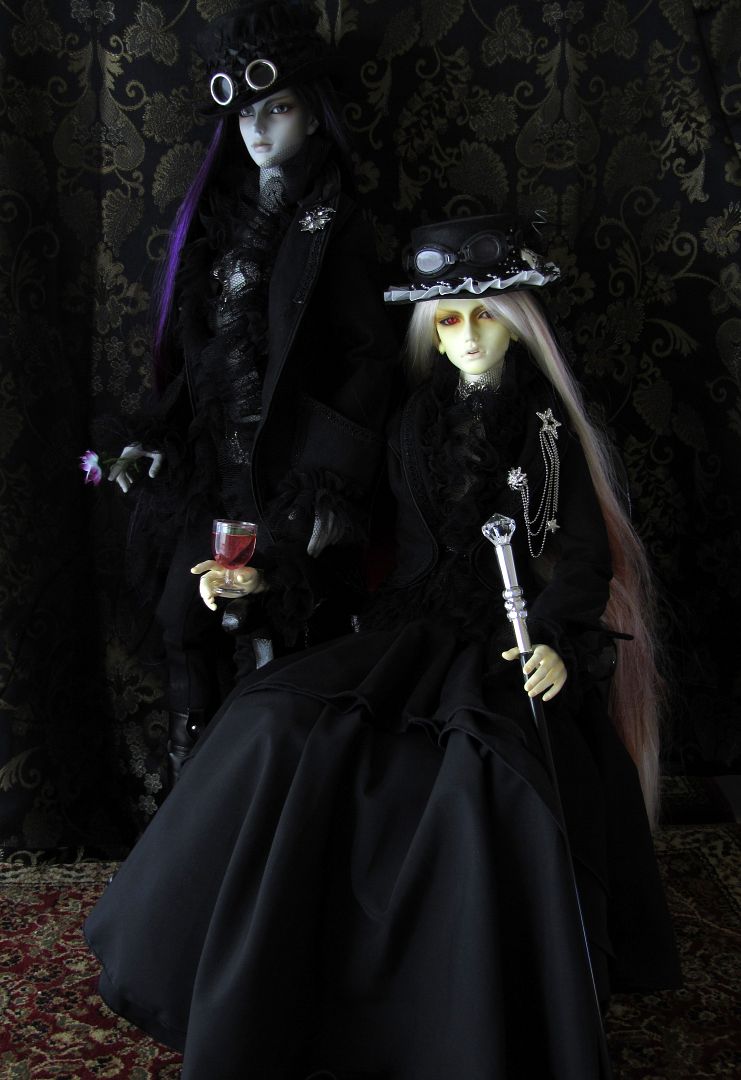 With Sokaris (Soom Euclase), also wearing Tous Les Garcons.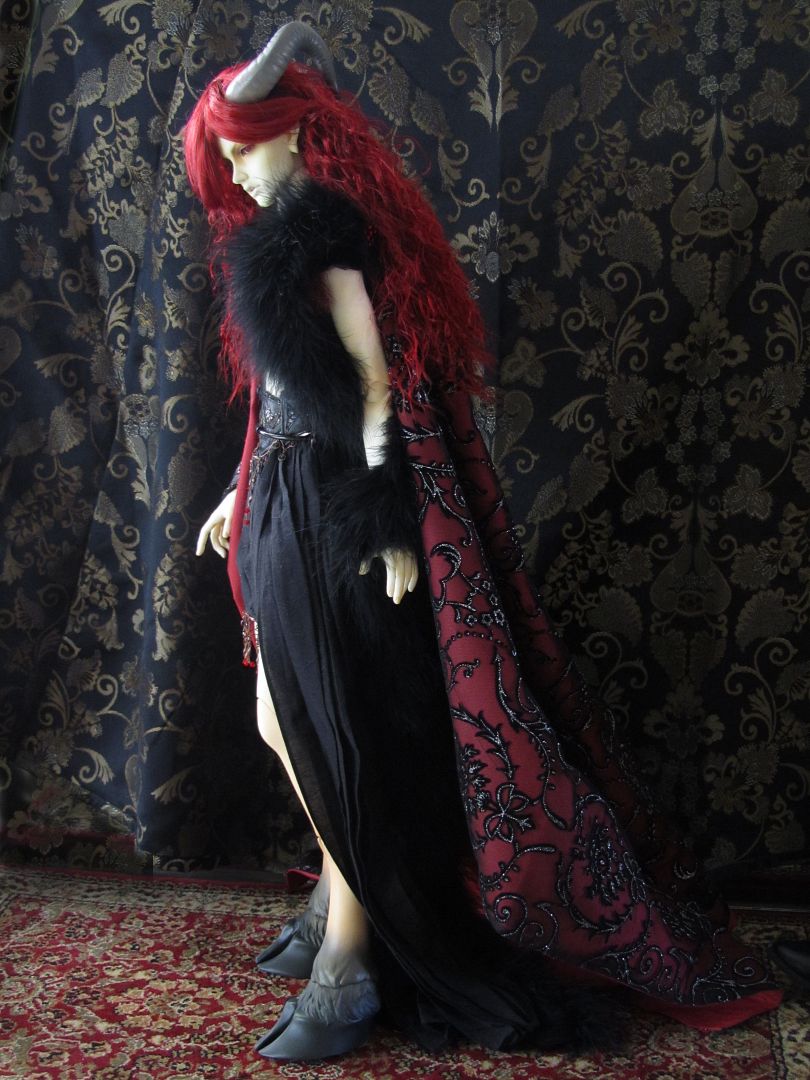 Only about two years after I got him, I finally switched Araqiel's human feet to his hoofed feet. I'd made sure to put extra layers of MSD and acrylic matte finish over the blushing, and moleskin-sueded the joints.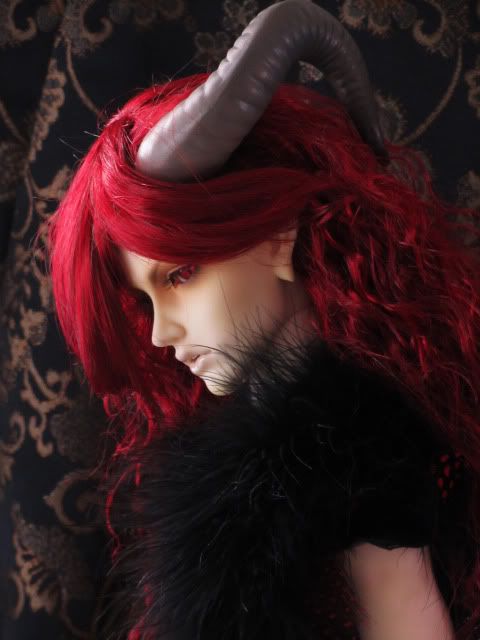 I didn't buy the Sard default outfit, but I picked up the Soom Chrom default outfit in a split on DoA. It looked great with his red eyes... I never thought Araqiel would be a red-head, but the Jpop wig looked fantastic with the outfit...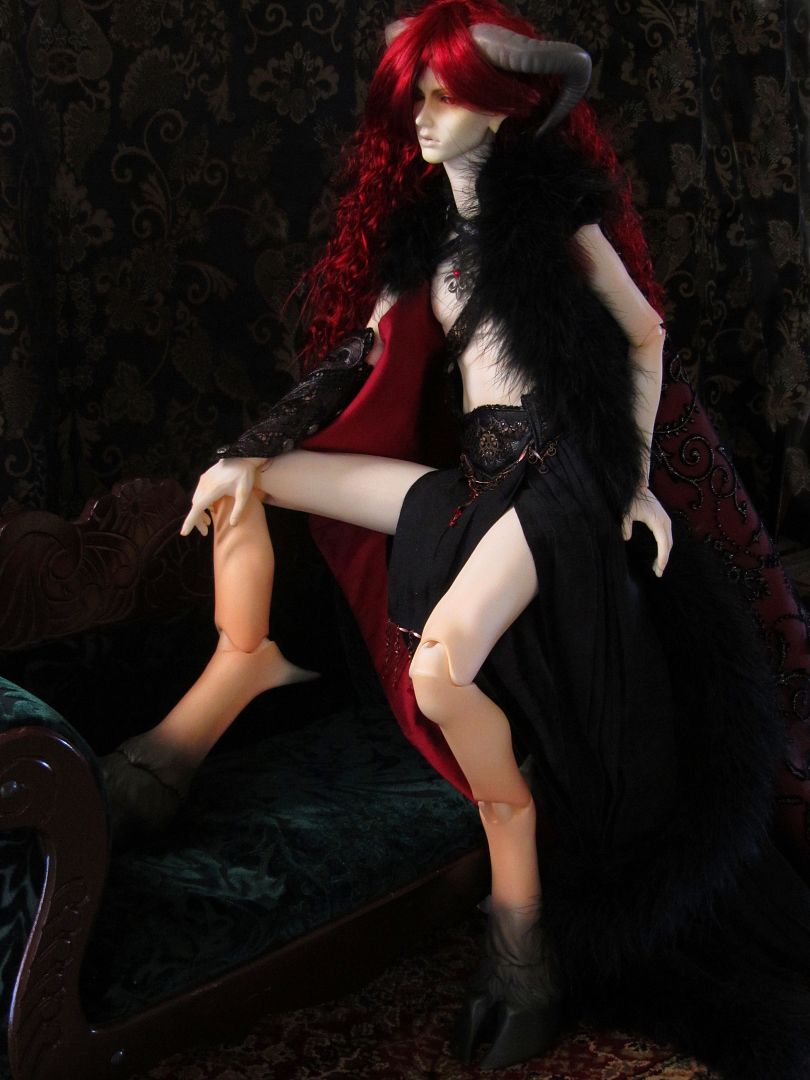 Just love the daylight coming in from the windows...

Commission done by Satirico of PhФεИiϰ's Artshop on DoA. Sept. 2012.