Naturally, when I bought my first Soom doll (Soom Sard, Monthly Doll), I thought that would be the one and only. And then I saw the Egyptian-themed Euclase. I didn't buy him during the selling period, but then when I started seeing owner photos I was having non-buyer's remorse and eventually bought him in parts on the DoA Marketplace. Then Heliot came out and I thought--forget it! I already have a white-skinned, hoofed Soom doll! So I resisted temptation until recently when I saw a whole Heliot for sale on the marketplace.
He was being sold with just the hoofed feet and the Romantic (horned) head, which was fine. He was purchased from various splits (such as I did with my Euclase). He had a non-default faceup, which was also fine, since I didn't care so much for the default. I was thinking I wanted to try for a monochromatic doll (faceup and clothing all in greys), but this faceup wasn't right for that. But I liked it a lot, so I'll just go for "limited palette."
So, why did I have to have 'Unicorn-boy'? I like unicorns. And he reminds me a little of one of my characters--a genetically altered human in the far future named Silver or Severin. And I kept having visions of Heliot wearing a long white wig and dressed in white and thought it would be the coolest thing. Apparently it doesn't take much for me to fall for a doll these days!
NAME: Arion Severin Helys / Silver
COMPANY: Soom, DollSoom (Korean based co.)
SIZE: SuperGem (~65cm size, larger than Volks SD-13)
HEAD SCULPT: Soom MD Heliot, God Master , December Monthly Doll 2008.
BODY SCULPT: SuperGem Male
SKIN TONE: Cream White Skin
MAKEUP (Faceup): By Lady Samhainne--commissioned by suicide; body blushing: Me
PURCHASED FROM: suicide on DoA
PURCHASE DATE: October-November 2010 (layaway); Previous owners, number unknown! CAME WITH: Hoofed legs. Unicorn horn + Romantic Head. Non-default wig & eyes.
I didn't take box opening photos, since he was shipped with his legs removed. I quickly blushed his hoofs and fixed a chip in his torso that happened during shipping and got him ready for the up-coming San Diego BJD Con. And here he is, posing at a table with my Sard and my Euclase, wearing a Heisejinyao outfit.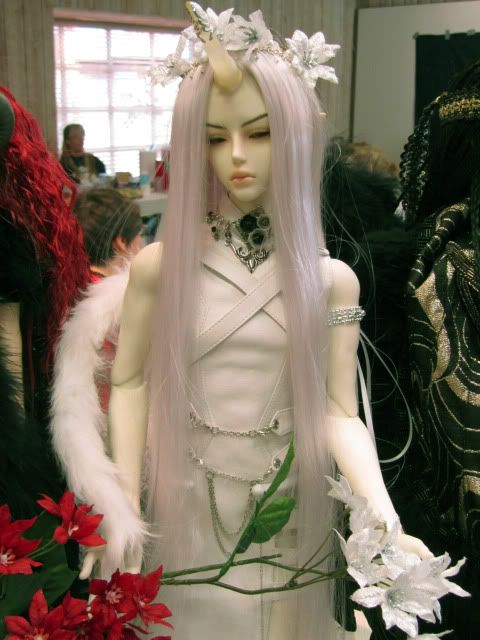 It was December, so I was trying for a bit of a Christmas-y tone by adding what poinsettias.

Someone had the idea of doing a group photo of all the Soom Monthly Dolls at the Con. I call it: THE TABLE OF SOOM!!!!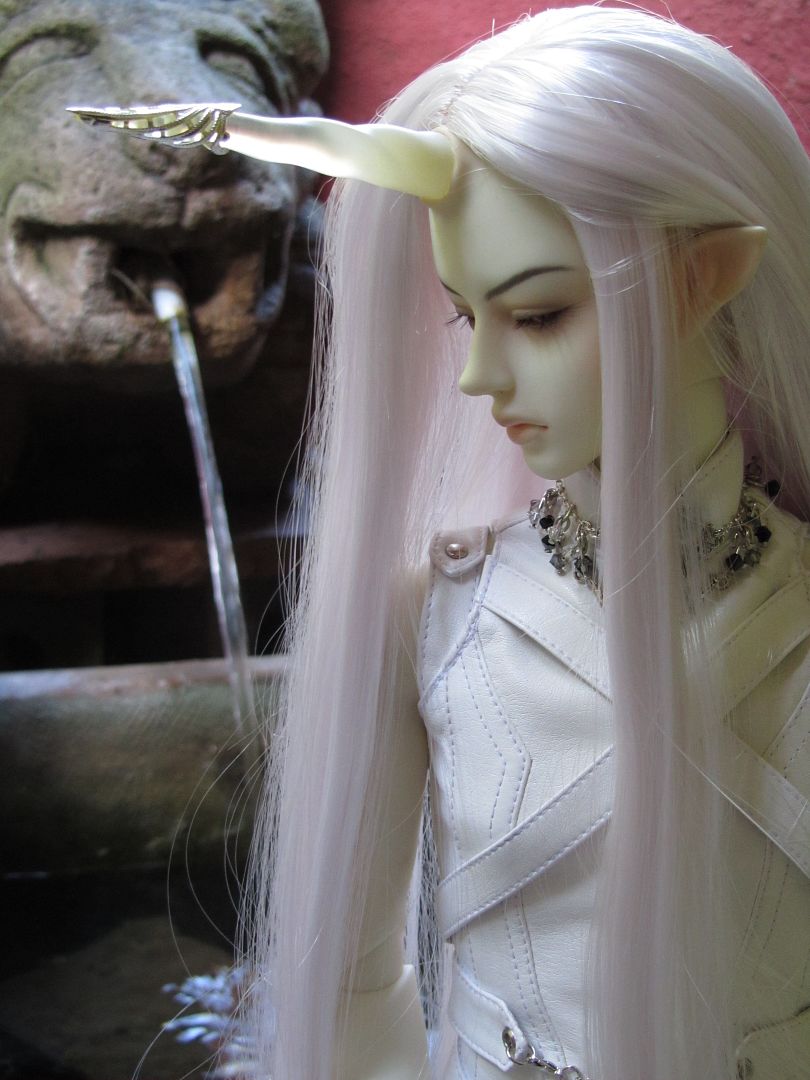 Garden shoot.

Garden shoot.

2011, June -- FDQ Magazine BJD Fantasy Photospread by Mercy Neumark.

2012. Christmas shoot.