TSUKI / TSUKIKO'S GALLERY
Tsukiko is a Volks (company/maker) SD-13 (SD-sized) Cyndy II (model/type) Limited (number unknown), NS (Pureskin, Normal). She was given to me by a very good friend, Nene Thomas (her previous owner), for Christmas 2006. She came with all her original certificates, outfit, box, etc.
She is named Tsuki after the moon, which is related to her model name. Tsuki-ko is a diminutive, used mostly because there are a lot of Tsukis, and the -ko also feminizes the name a bit.
Tsukiko immediately made herself at home... becoming a fun companion for Tamishirou, who was feeling a bit lonely amongst the CP Elves. She's a bit mysterious, quiet, unpredictable... but knows her own mind and can be fun (in a serious kind of way!)
Tsukiko will keep her default eyes and faceup. So far she hasn't varied too much from her Cyndy II style.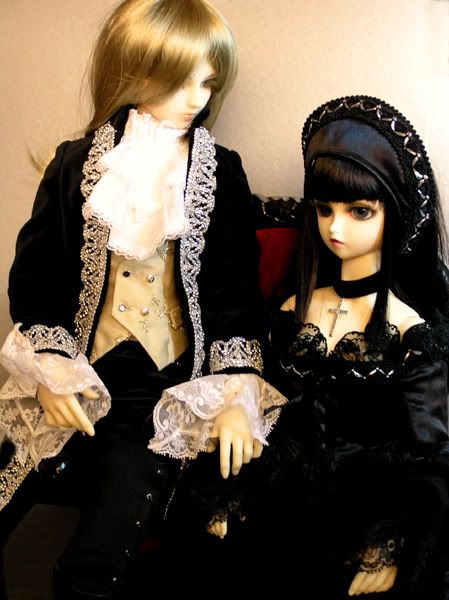 Here Tsuki is, wearing her default outfit--with Tamlin, wearing DollHeart Romance of Venice.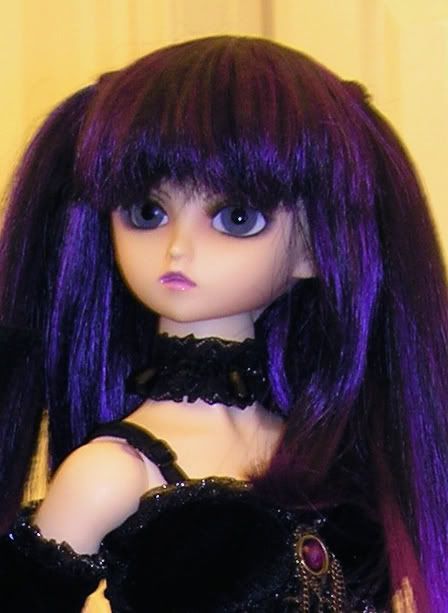 Tsuki, dressed up for Cloudtrader's Party, in a bjdshoppe wig and Dollmore dress.
At the Party with Tamishriou, who is wearing a Volks outfit.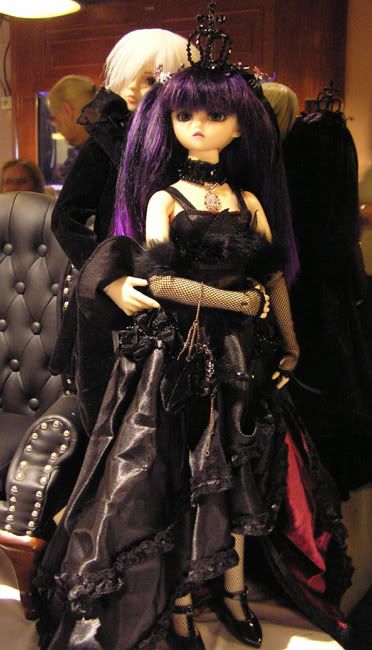 Tsukiko at the San Diego Chinese Restaurant Meetup (with Tamishirou/Tamlin in Leeke wig), May '06, wearing goth princess outfit from an Asian seller on ebay.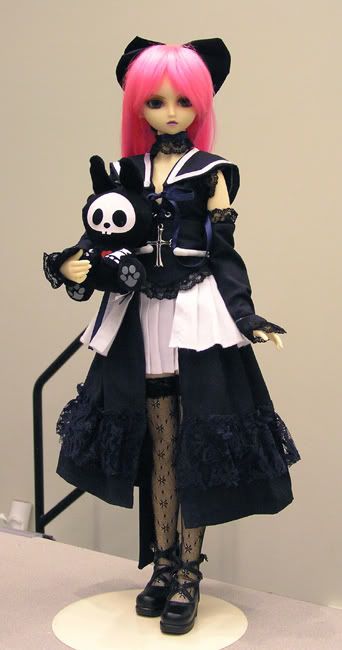 Tsukiko at the San Diego Comic Con July 2006. She's wearing an outfit from Release-rain on ebay, Luts shoes, unknown pink wig, and new Skelanimals bunny bought at the con.
Tsukiko at the Los Angeles Dolpa, November '06, wearing the Yvaine "Stardust" movie costume for the Customization Contest.
Tsukiko at GenCon '08, wearing a cheung-sam by AsnButterfly purchased at L.A. Dollpa.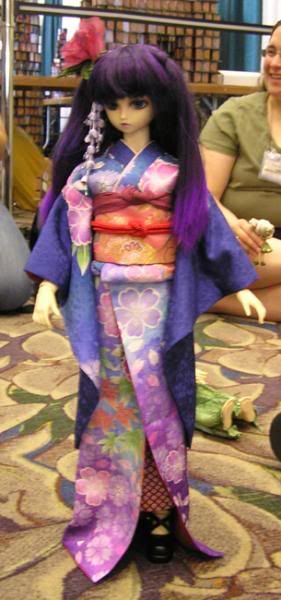 Tsukiko at GenCon '08, wearing a kimono set purchased from Volks at the L.A. Dollpa.
Cosplay--as the Duchess and her Baby (Freckles, Elfdoll Alice Cherry-blossom), Mad Tea Party, Royal/T, March'09, wearing customized dress from ebay, Dollmore wig.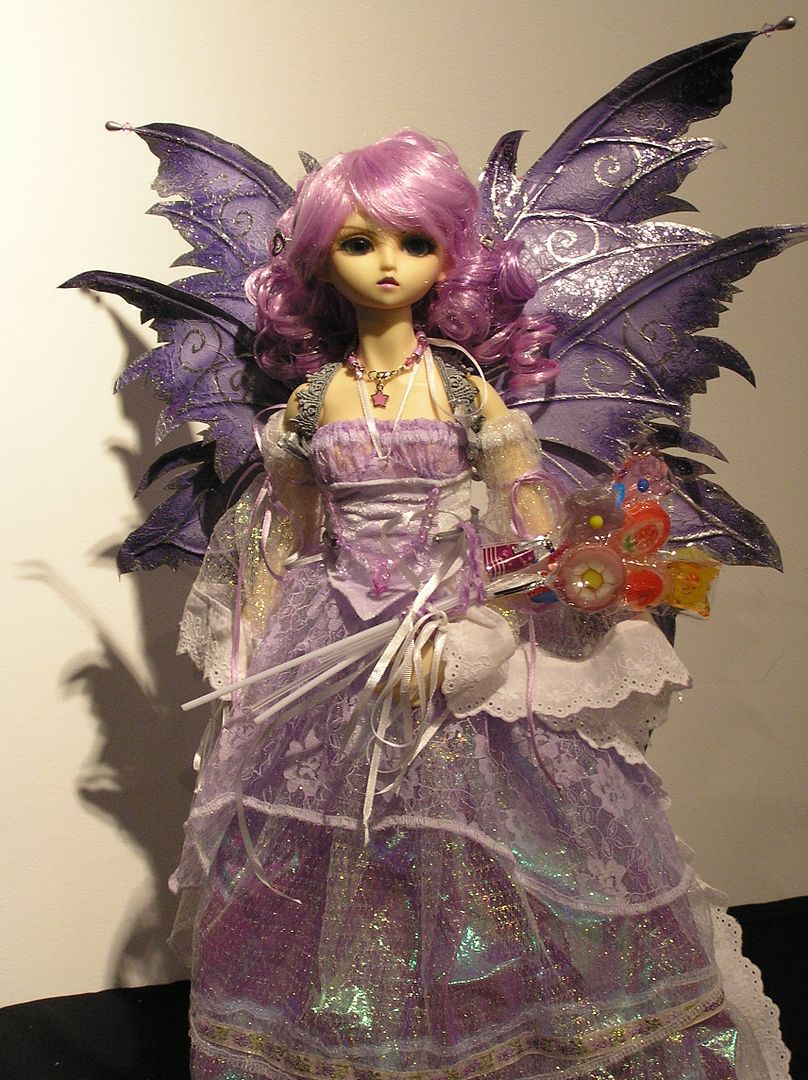 Wearing Violetfern dress and Lady Morghayne Wings at CandyLand Party, Royal/T, August'09.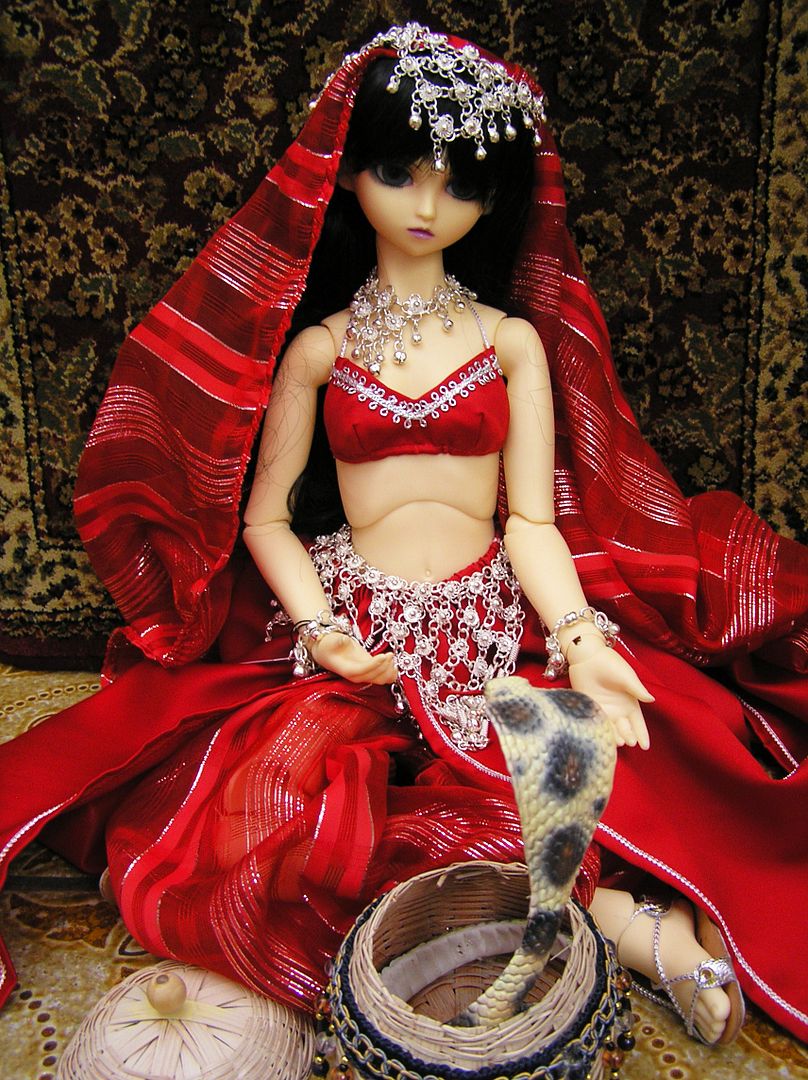 Wearing Sunara Belly-dancer outfit with jewelry and snake, Sunara silver sandals, Luts wig, May'10.
At the EarthSpirits Meetup, October 2010, Tsukiko as Autumn Goddess, wearing a dress by Dolls by Rhiannon, wig by Neale.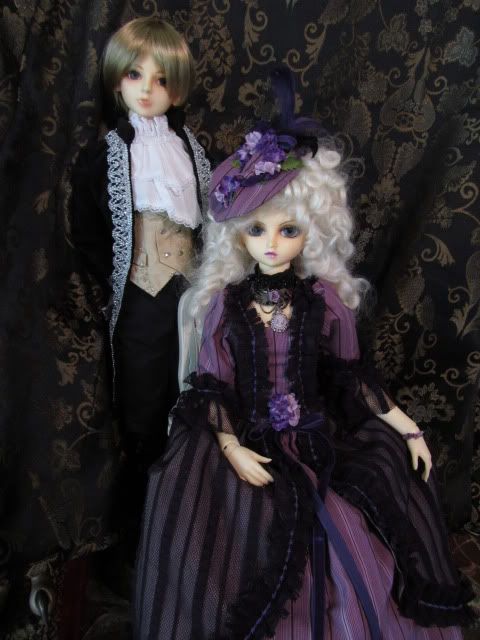 Wearing outfit bought at the Central CA BJD Con.