"FRECKLES" TORCY TRIATH'S GALLERY
MAKER: Elfdoll
MODEL: Alice Cherry Blossom, v.2 Gothic Hoody
SKINTONE: Homme skin
SIZE: Tiny, 14 cm / 5"
EDITION: Limited, version 2, Gothic Hoody, #120
PURCHASED FROM: Jasmine's Cottage, jasminescottage on ebay
DATE: Feb. 21, '08 (purchase), arrival end of Feb.
DEFAULT ITEMS: Gothic Hoody Fullset: Makeup, 16mm acrylic eyes, outfit.
Elfdoll produces these dolls, designed by Charles Stephan who is known for his pig artwork, sculpted by Rainman--at first in celebration of the Year of the Pig. This is the second limited release made the year after with two new full-sets and makeup. The Gothic Hoody was released with the Ballerina. The resin is very nice--no seams or blemishes and very fine detail. The joint sculpting is very solid and the stringing good so that poses are good considering the tiny size of the limbs, the legs will stay straight and can stand pretty easily--not quite as top-heavy as it looks!
I thought the idea of a Pig BJD was silly, but loved the sculpt upon sight! I resisted buying the first version (rather easily since it sold out quickly!). The second versions also sold out. A third version, boy and girl, with a new sculpt for the boy called William Winterberry School Angel, was released in March 2007. They were cute but I realized I really liked the Gothic Hoody--with the freckles on the faceup. Luckily I saw one for sale, new, in an ebay doll shop. It's the freckles (and the light eyes) that just kill me!
So, "Freckles" was a natural choice for a name. It's a bit too much of a pet-name, however, so I thought he'd need something a bit more interesting, so his formal name is Torc (or Torcy, reminiscent of Porky) Triath, which is the name of the King of Boars in Irish legends. And he's a boy piggy just because he looks more boyish than girlish to me. (And I like the boys, anyway!)
Freckles is just a sweet little piggy. Loves beautiful things and is always ready to cheer his friends up.
"Out of the Box" photo with friend.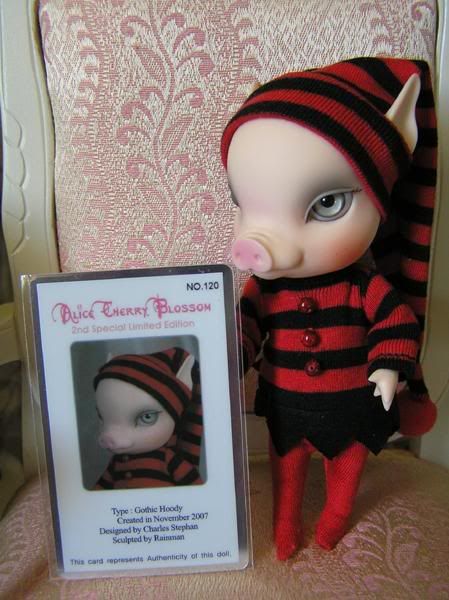 With the card/certificate.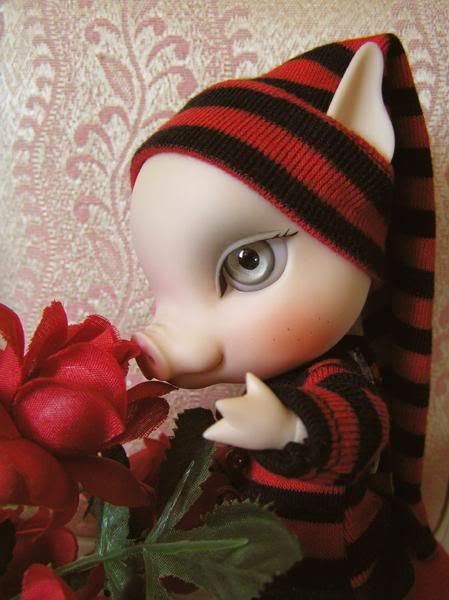 Red Roses.
Elfdoll Spring Party, April '08.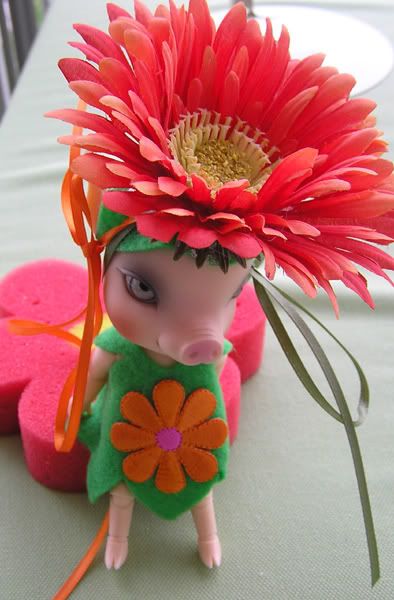 I ran to JoAnne's and bought a flower, felt, embroidered applique, ribbons, glue and snaps and made a quick outfit!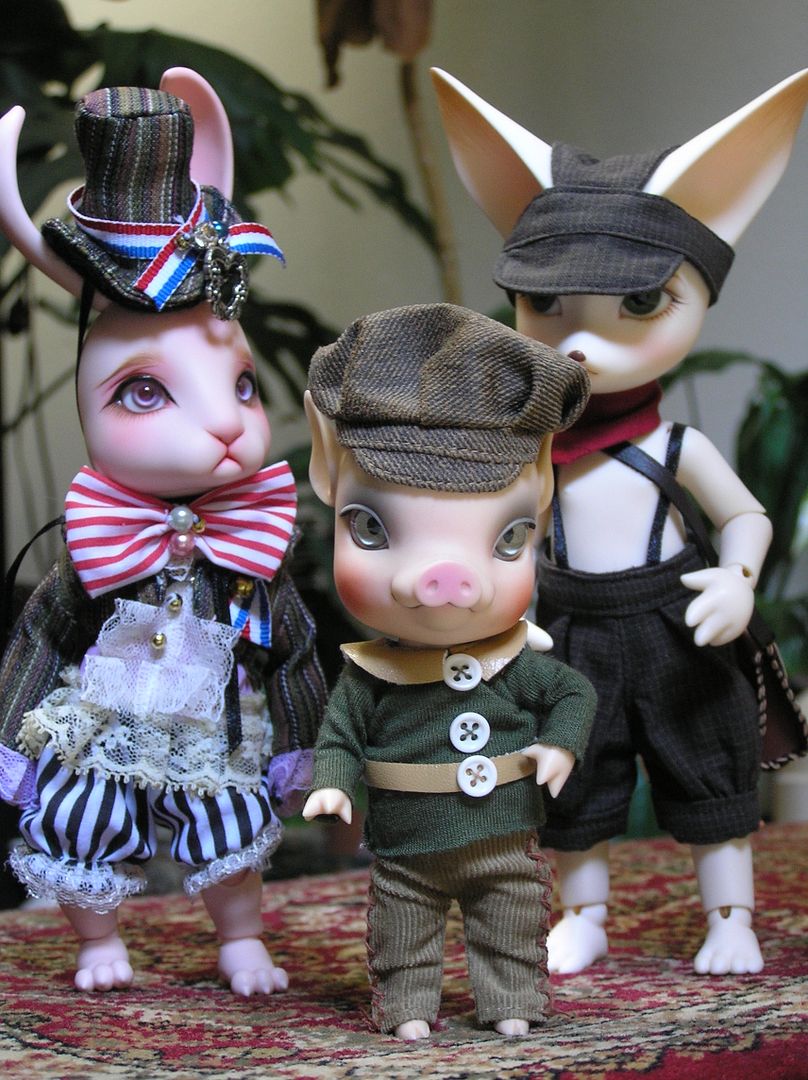 Here he is in Elfdoll outfit with Harry Haredini (Cocotribe Jerry) and Seth (Pipos Bao).
Tea Party! With Harry Haredini (CocoTribe) and friends.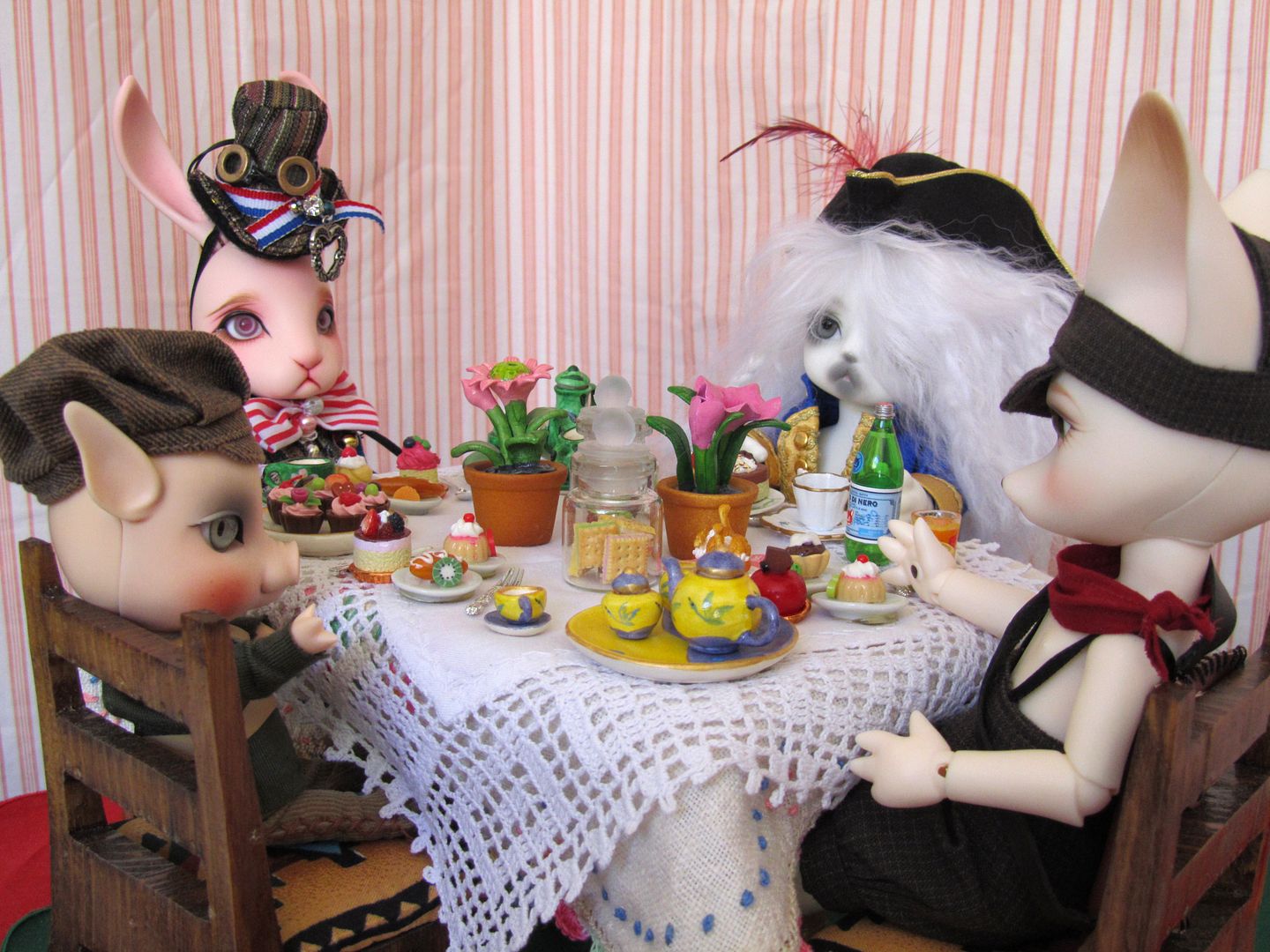 Tea Party! With Harry Haredini (CocoTribe), Justin Alastair (Zuzu Lio) and Seth (Pipos Bao).