Click on Images to go to Gallery Pages

ELURIN -- Cerberus Project Delf Elf El BW.
LOTHIRIEL -- Cerberus Project Delf Elf Lishe BW.
YDRAHIL -- Cerberus Project Delf Elf Yder BW.
IRIME -- Cerberus Project Delf Juri BW (head)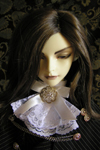 ELURETH -- Cerberus Project Delf Elf El Vampire BW (head)
TAMASHIROU "Tamlin" -- Volks SD-13 Shiro Tachibana One-Off NS.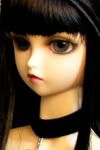 TSUKIKO -- Volks SD 13 Cyndy II NS.
ARAQIEL -- Soom Sard: A Night Odyssey, ws.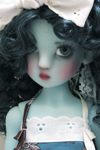 KIYERI -- KazeKidz Blue Koneko.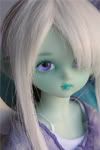 SNOWDROP -- Bambicrony Misty Blue Elf Kumi.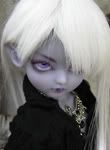 NIGHTSHADE -- Bambicrony Light Slate Gray Elf Pepe.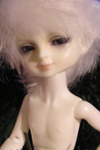 COBWEB -- Tinybear Bracken White Skin.
MOTH -- Tinybear Moona White Skin.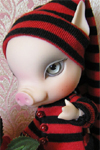 "FRECKLES" TORCY TRIATH -- Elfdoll Alice Cherry Blossom v.2.
JUSTIN LEON ALASTAIR, Duke of Avon-- Luts Delf Zuzu Duke Lio.
Head-- CP Elf Lishe Vampire BW
Head-- CP Elf Lishe Dreaming BW
Head-- CP Elf Yder Vampire BW
GWYNN -- Volks Dollfie NeoGuy
Iplehouse Noctarcana Circus Theo
Soom Heliot
In Volks, Inc. of Japan designed, produced and popularized cast, highly posable, polyurethane resin dolls, held together with heavy elastic. Growing out of the popular resin model kits, the first dolls were meant to be highly customizable, assembled, painted and finished by the owners.
Now, more complete dolls are sold, but the inter-changeable eyes and wigs and clothes, and the relative ease of wiping the paint and re-painting, and sanding and altering the resin remains--and is one of the allures of these dolls. The posing and playability is also appreciated. Owners love to change the looks of the dolls--customizing them to create their own characters. Certain heads and hands and legs can be interchanged.
Photographers, writers of photo-stories, clothing designers and seamstresses, doll-makers, accessory-makers and others have also fallen in love with the dolls and express their creativity through them. Many other companies have created and sold their versions of these dolls, most originating in Asian countries, notably Korea, but independent artists and studios are now producing these dolls all over the world.
WHERE TO FIND OUT MORE--
BJD_WTF : Ball-Jointed Doll information site
DEN OF ANGELS : Ball-Jointed Doll Forum