COBWEB'S GALLERY
MAKER: Tinybear
MODEL: Moona
SKINTONE: White
SIZE: Tiny, 6" tall
EDITION: Standard
PURCHASED FROM: Tinybear
DATE: August '08 (Purchased), Third-hand from DoA Marketplace
DEFAULT ITEMS: Faceup, wig, eyes
Tinybear, located in the U.K., designed and Bobobie cast these dolls, called the Witley Wood Elves. The first was the girl, Moona, then the boy Bracken (she has since gone on to design and produce several other tiny-sized BJDs, the fat fairies, Coco and Bonbon, and has plans for more). Moona comes all assembled with faceup and random colored wig by Tinybear and eyes, tucked in a padded satin drawstring pouch. The body has three parts and can slide slightly out of joint. The stringing is soft (so small, tiny elastic) and other joints will pop easily, but she can stand pretty easily, so-so about keeping in a pose. The resin is smooth, no visible seams. Nice details, no imperfections in the resin.
This girl was bought on the DoA Marketplace. I was the third owner. I had to wash out her wig a bit because she came from a house with a smoker, but I think the smell is now gone. I got her at a bit under retail.
Moth is named after the fairy in Shakespeare's "A Midsummer Night's Dream"--just as my Bracken was named. She's a white-skinned elf, also to match my Bracken, Cobweb. She came with a lovely brown wig with pink tips, but I may get her other color wigs, probably from Tinybear.
I just adore the sculpt of her face and the default faceup! She's got the most amazing expression for such a tiny doll. She looks as if she is an Elf Queen sometimes, at others, she's just a sweet little elf.
With the wig and eyes I received her in... little dress from Elfdoll.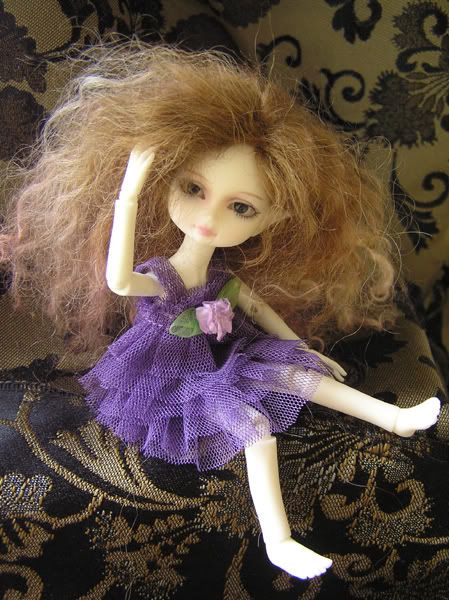 Can't hold tight poses, but can pose OK.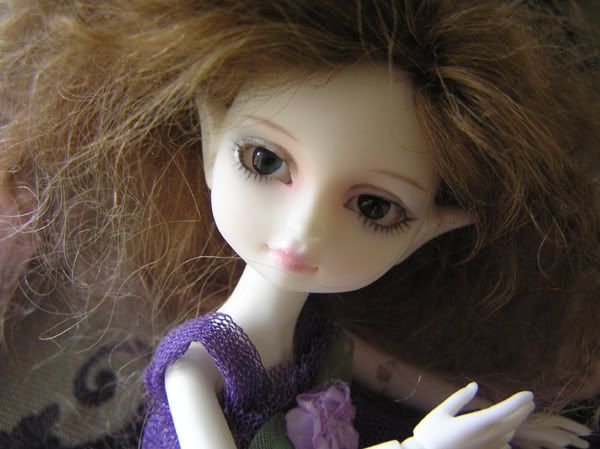 I so LOVE her face.
Moth with Cobweb.