I was hoping my Tiny-sized buying days were over. I have a good sampling of them already, from Tinybear's tiny Moona and Bracken, to my four Anthros, to my Yo-sized Bambicrony Colored Elves... Plus, I don't really think I'm a tiny bjd kind of person... I adore them and think they are to-die-for CUTE, but is that enough of a reason to be paying the big bucks for them???
Pukis have been popular since they first came on the scene, though. And I'd certainly been hearing a lot about them and had been checking them out and trying hard to avoid temptation for years. But that kind of thing can wear you down, and I've been particularly WEAK lately... so... voila... My first puki... and my first doll from Fairyland (although CP designs and makes Fairyland dolls and I've got a ton of CP dolls from before Fairyland was a company).
I know from my Antho tinies that small sizes are hard to find clothes for, and the Realpukis are tiny-tiny-tiny!!! I'd been happy buying full-sets for odd-sized dolls before and I really liked the fullset Aki Shadow, so I got it all... In white skin because it seemed to go with the costume--and I'm just a white-skin or colored-skin fan...
I really like his crazy face and fangs... and his odd little size. He's like a mischievous little imp! I like how he's different from my other dolls... but yet sort of fits in with whatever slight theme there is (at least for my fantasy dolls).
NAME: "Nettle" Nettle Nyx Umbril.
COMPANY: Fairyland (Korean based co.)
SIZE: Tiny, 9.7cm tall
HEAD SCULPT: Aki.
BODY SCULPT: Real Puki.
SKIN TONE: Beauty White
MAKEUP (Faceup): Default
PURCHASED FROM: Denver Doll Emporium (DDE), agent for Fairyland.
PURCHASE DATE: December 20, 2010, (layaway, 3 months), arrived March 21, 2011; Original Owner CAME WITH: Fullset: Resin doll, assembled, with faceup (extra), sleeping faceplate with faceup (extra), outfit, resin helmet, shield, shoe-feet, 2nd pair hands, wig, eyes.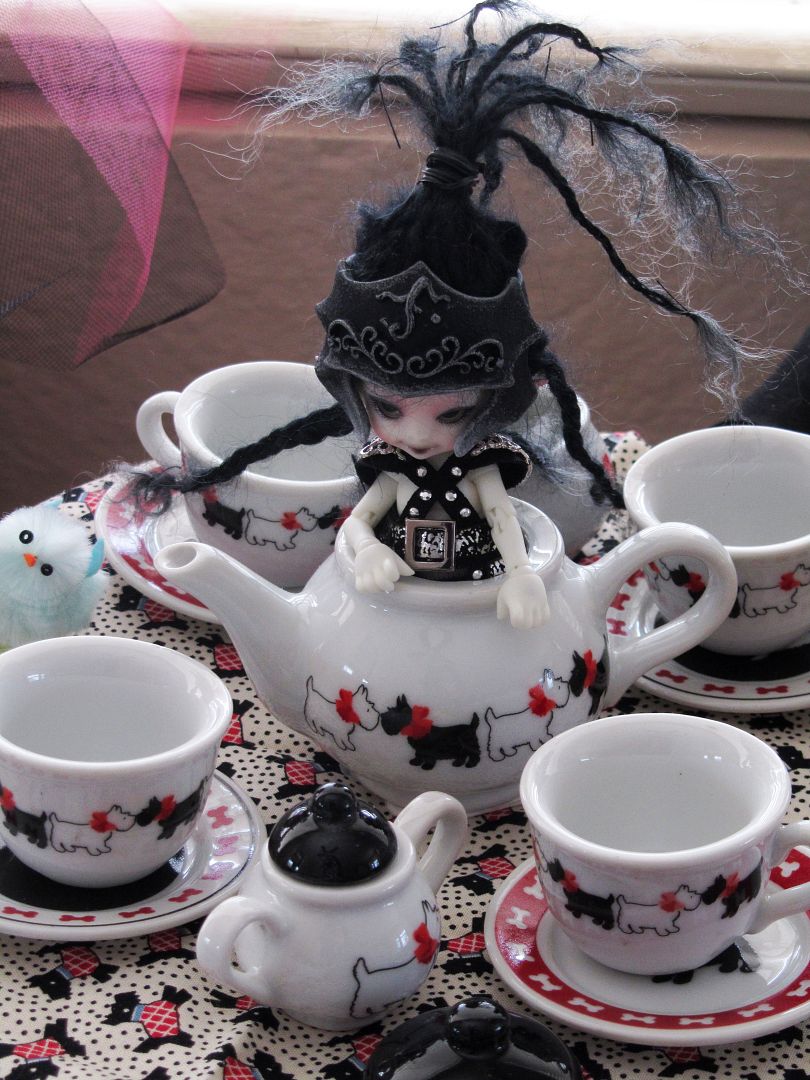 At the Mad Hatter Party, 4/26/11. Doing the Dormouse's job.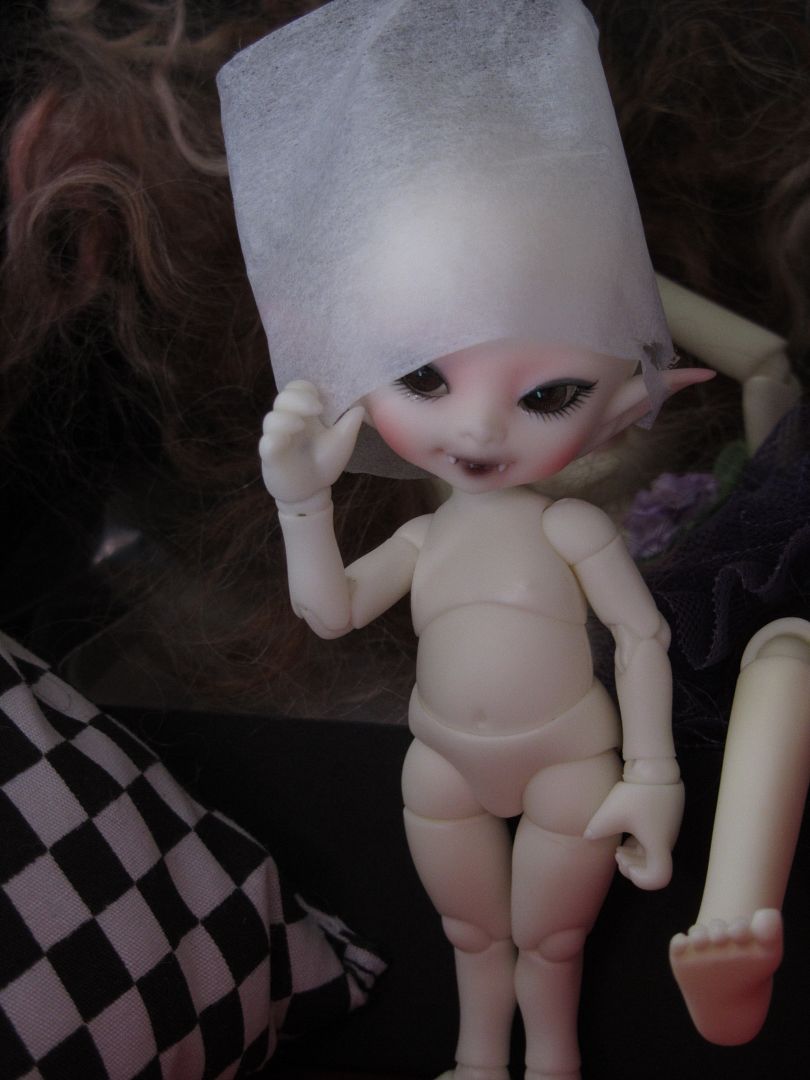 Box Opening: Peeking under the paper wrapping his face...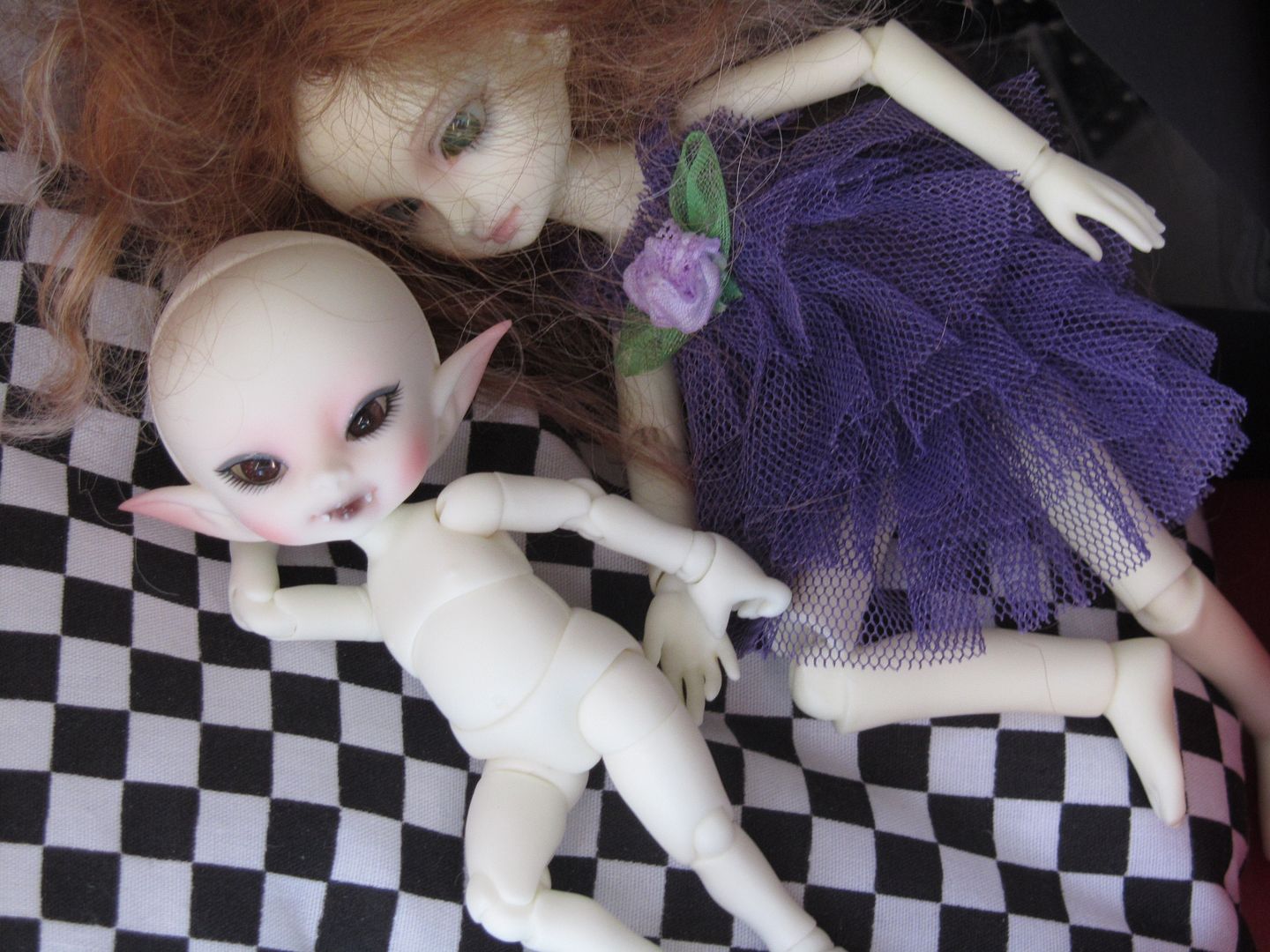 Box Opening: Size compared to Tinybear Moona.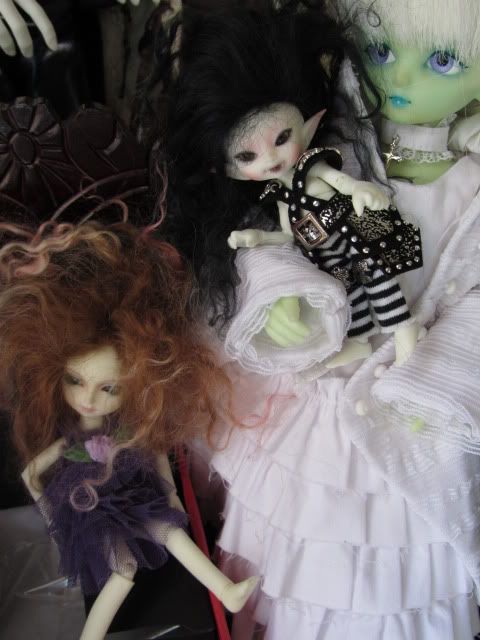 Box Opening: Size compared to Yo-sized Bambicrony.
Box Opening: Posing with a variety of sized dolls.
Unpainted helmet. With Uglydoll Icebats...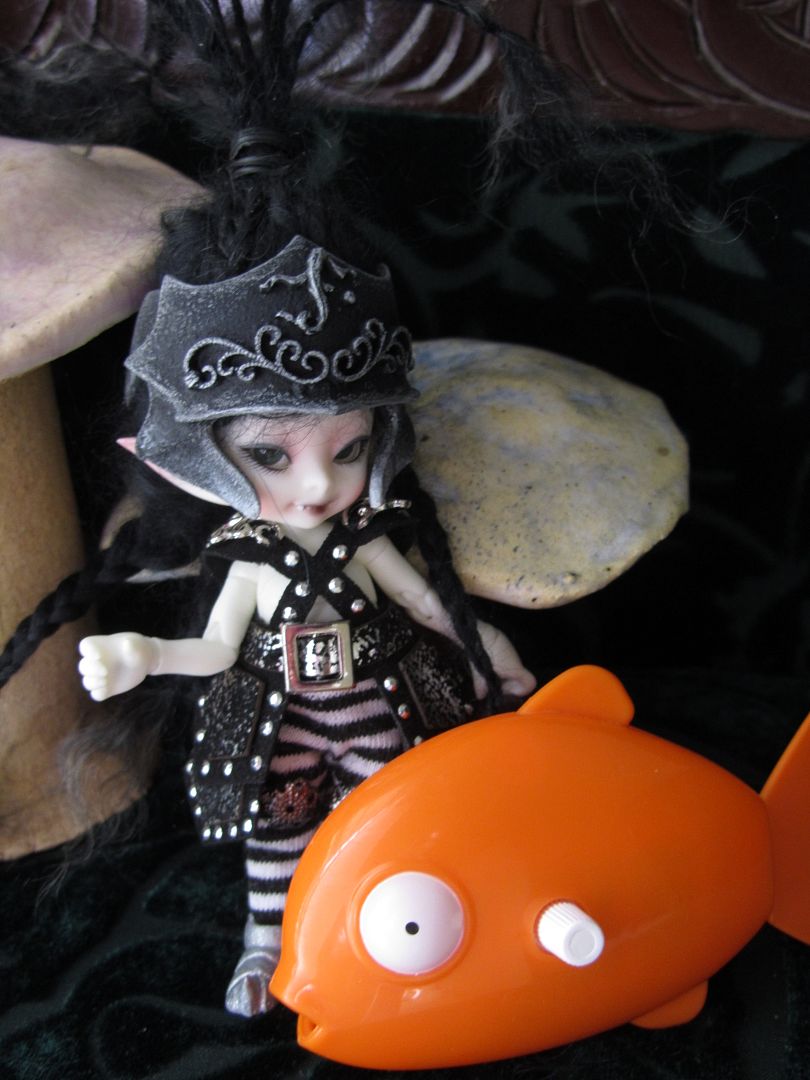 Nettle with Mr. Timms and Bruce's mushrooms.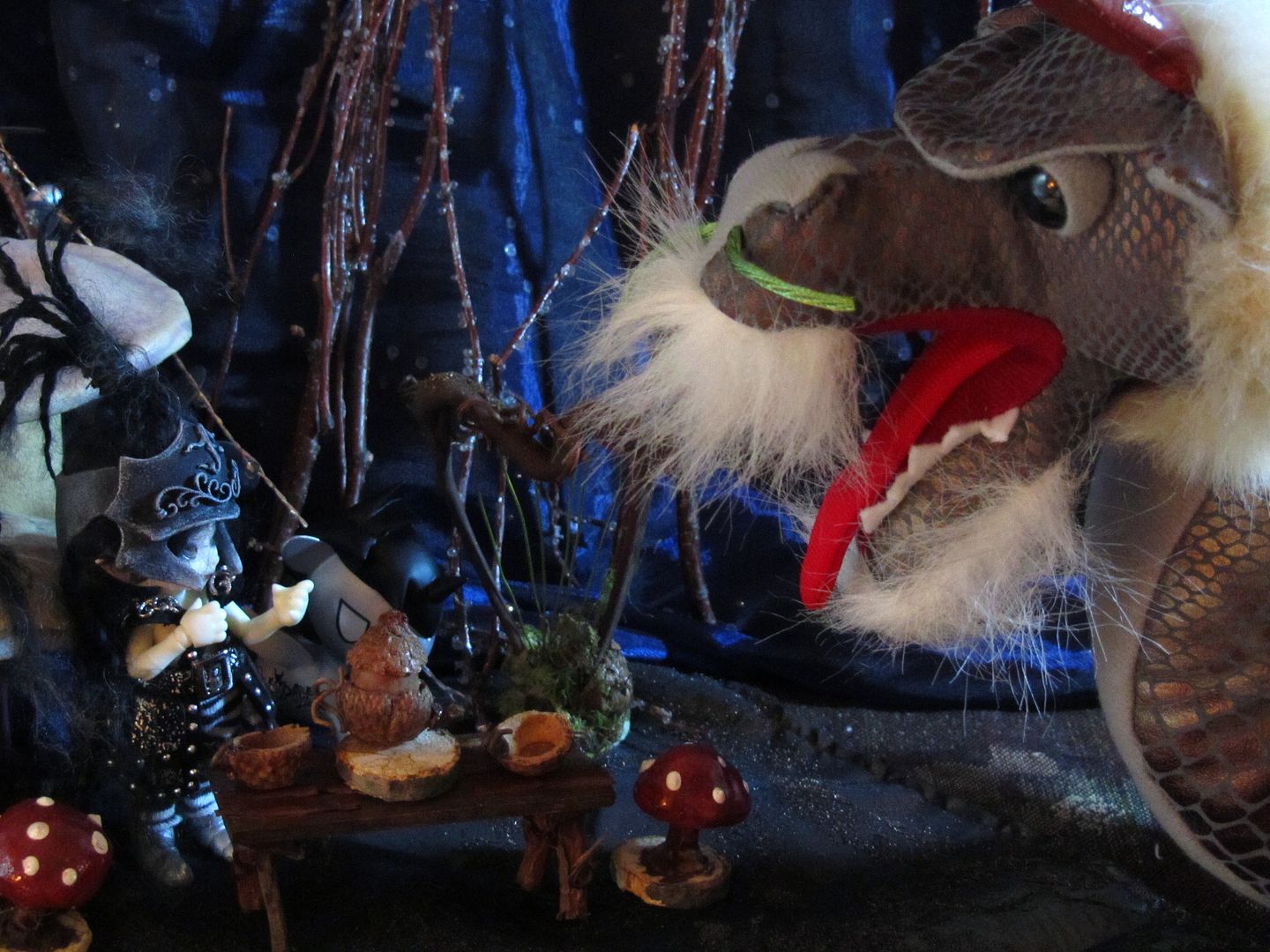 "Tea with the Dragon"-- Happy Year of the Dragon, New Year 2012. Photo entry for CA Dollie Dreamin' Meet.
The Fairy House. Dining Room.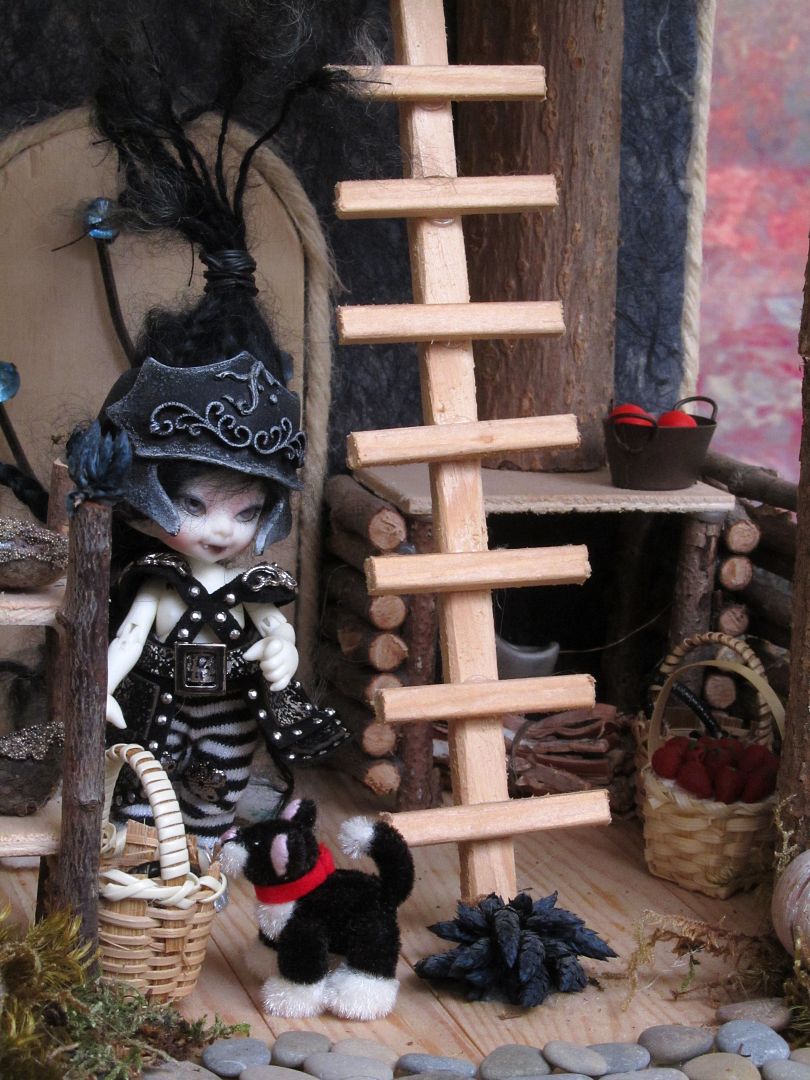 The Fairy House. Kitchen.