Here's the last of my big doll-buying binge of 2011/12... His color was limited, so I had to get him then or never. I'd been looking at Soom's red boy, Trond, but didn't want super-cute. This guy is cute, but sort of homely, in a good way... and he wasn't THAT expensive, so, in my weakened state (what was one more layaway???), I got him. And I'm glad I did.
I had the choice of getting him through a domestic representative for 5StarDolls, and I chose Mint on Card (MOC). (After they notified me that Aiden had arrived, MOC said they were no longer going to rep 5StarDolls. I don't know the reason--if any.) Anyway, I had him on layaway and he arrived with no problem.
I'm currently not waiting on a doll (June '12)--and that's a good thing! Although I did enjoy hanging about in DoA's Waiting Rooms. I still have some work to do on the dolls that have arrived--so that's all good.
I'm calling my Aiden, "Nik the Imp." No real reason. I just like the name. He's a basic, what-you-see-is-what-you-get type of guy. No real character established, but I'm sure he'll develop a bit as we go along!
NAME: "Nik the Imp"
COMPANY: 5StarDolls (China based co.)
SIZE: Tiny, 28 cm tall, ~ 11"
HEAD SCULPT: Aiden
BODY SCULPT: Tiny Type B
SKIN TONE: Red (limited to 100)
MAKEUP (Faceup): Default (2011 release)
PURCHASED FROM: Mint on Card (MOC), agent for 5StarDolls.
PURCHASE DATE: Ordered: January 28, 2012, (layaway, 4 months), arrived June 21, 2012; Original Owner
CAME WITH: Basic: Resin doll, assembled, with faceup, horns, tail, arm-piece, hand piece, random eyes, shoes, wig.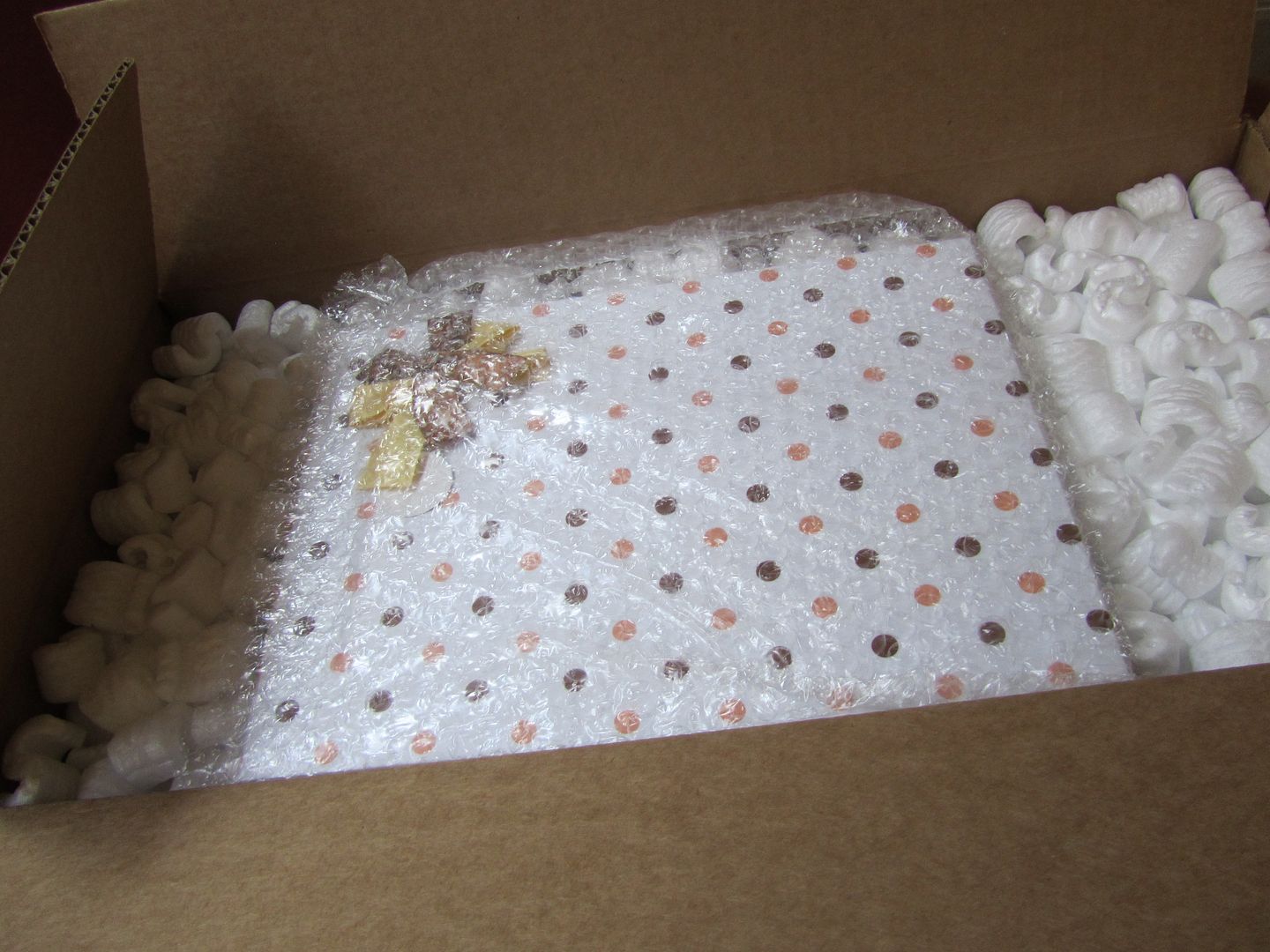 Box Opening: Inside long-ish shipping box, shipped FedEx Ground--that took nearly a week, cute little polka-dot box and yukky packing peanuts (but no problem since I just had to lift the box out).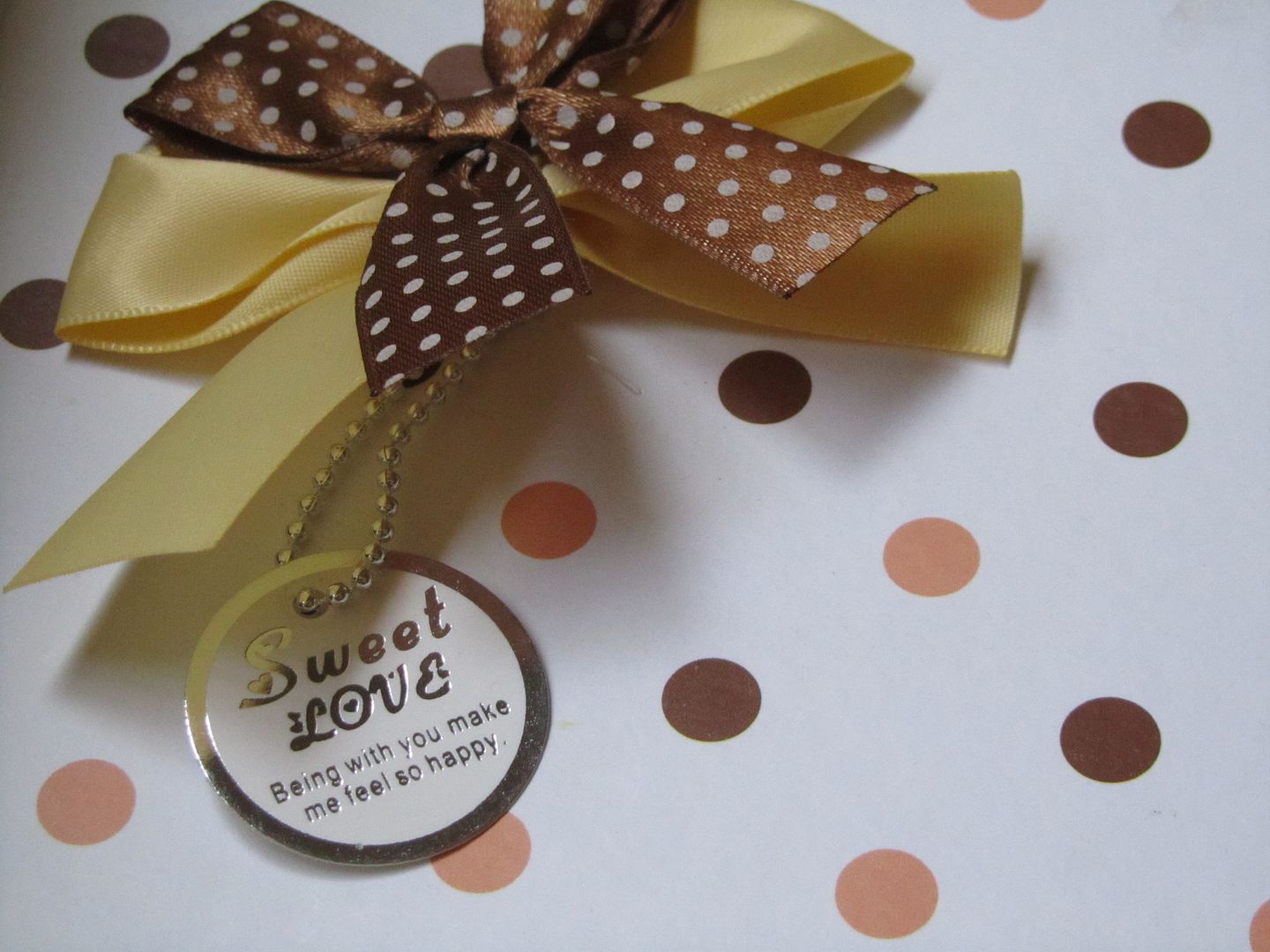 Box Opening: close-up of little tag. Cute.
Box Opening: Filled with stuff. I'd purchased a few other things from Mint On Card-- two Heisejinyao art books (outside the box), a leopard-print MSD dress, a set of fancy jeweled horns, white bloomers. The other stuff--wig is the random wig that comes with the doll... I'd have PREFERRED having a wig like that shown in his photos, but oh, well! They did say "random"... also random shoes, that were black sneakers, which are OK. Random eyes were nice, but would also have preferred something like the photos.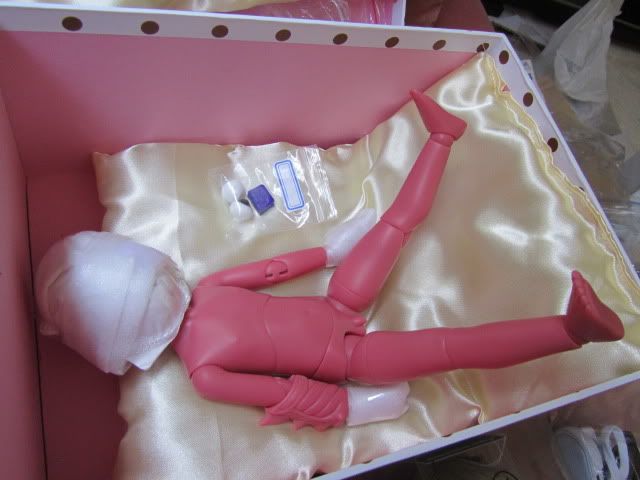 Box Opening: Finally-- lifted off one of the yellow satin pillows and Voila! The little guy himself! ... All wrapped up--with a face-protector and wrapping around his hands...
Box Opening: Mint On Card is no longer an agent for 5StarDolls, so I was worried that he wouldn't have the faceup or be complete--but it was OK! Everything was there! *whew!*
Box Opening: Demon hand, eyes, etc.
Box Opening: With magnetic horns... I hope they don't fall off and get lost. Maybe I should just glue them on? Hmmm... Love that over-bite...!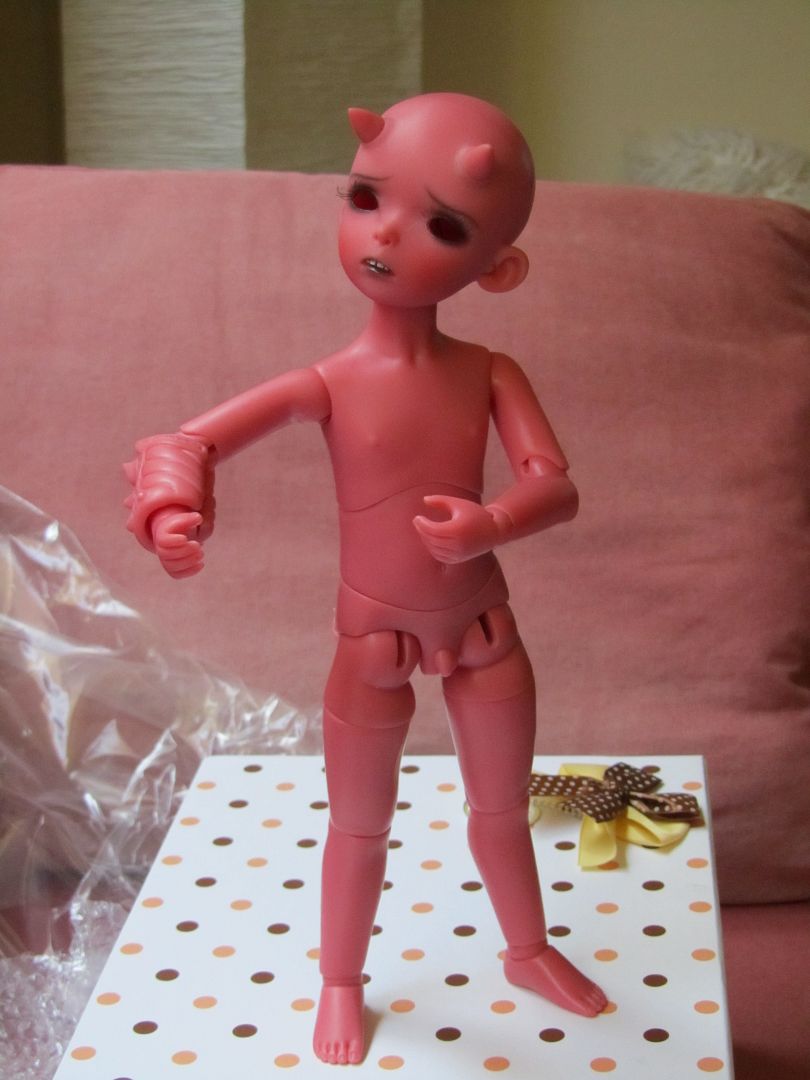 Box Opening: He stands! I'm easy when it comes to posing... If he can stand and move a bit, that's all good.
Box Opening: Arms stay put, which is good.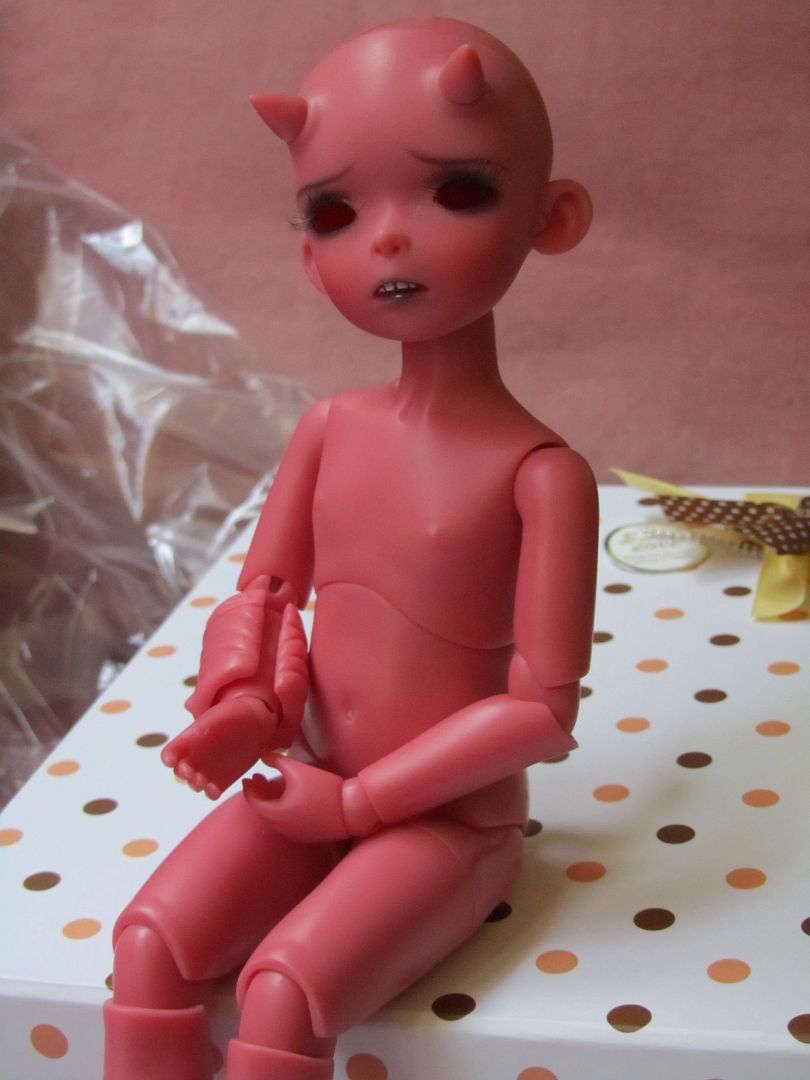 Box Opening: AND he sits... Didn't even need to put an arm behind him to prop him up.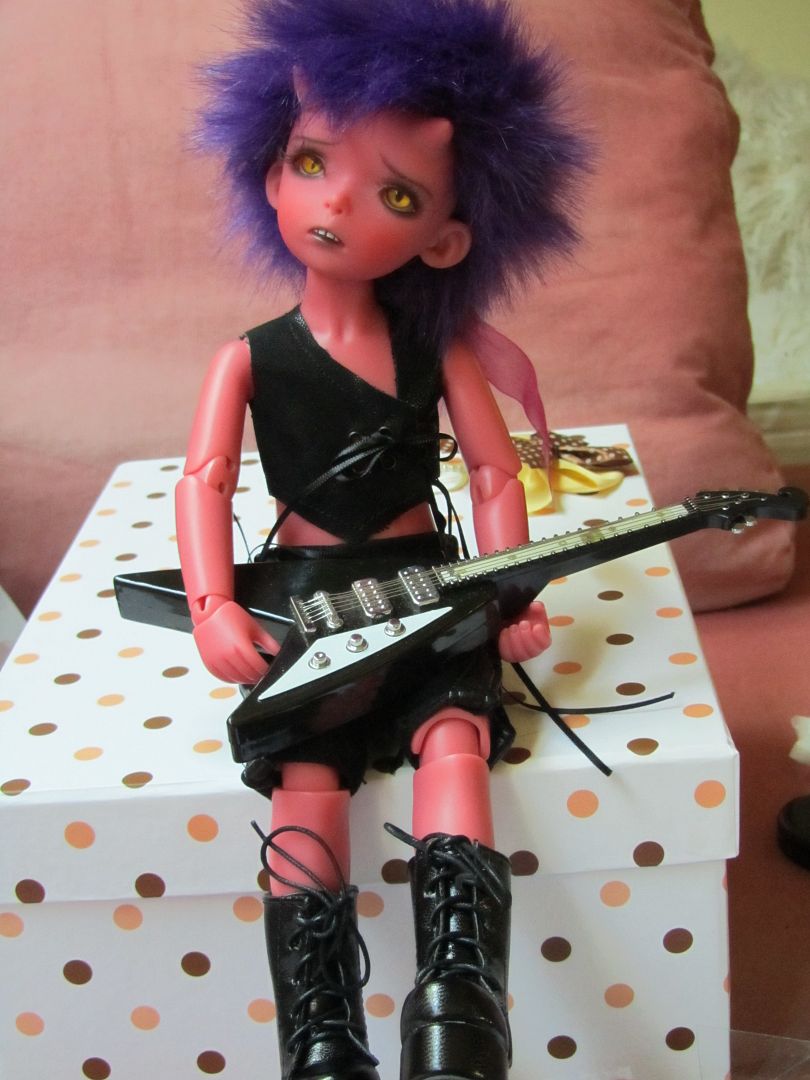 Box Opening: SO... I dug up all the yo-sized stuff I had, and I had more than I thought (agh!). Stuff bought for this guy and stuff bought for Nightshade that he's never worn... I rather liked something from PixieDust --so I tried it on him. And hey, why not a guitar?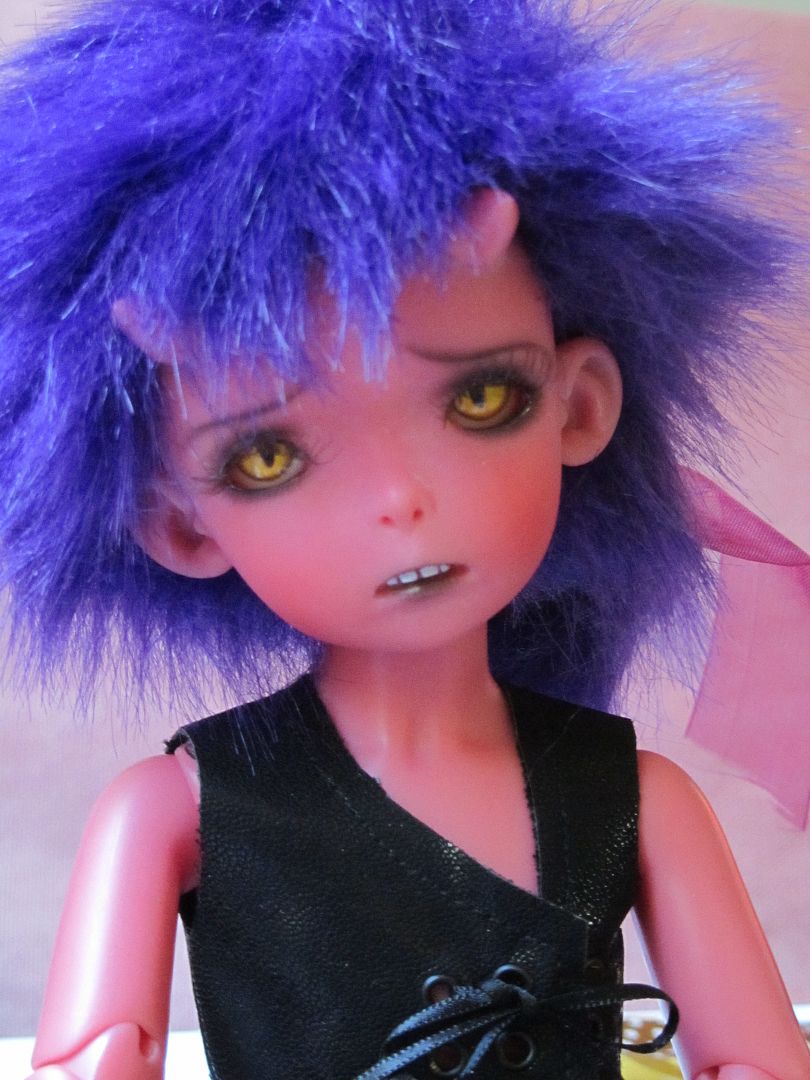 Box Opening: And I found a purple fur wig I'd forgotten I had. Who had I bought it for??? Maybe Nightshade, but it obviously is all wrong for him. I didn't think it'd work at all against the red skin... but I think it does work! Sometimes it's impossible to know until you try it on! *___*
Box Opening: Gah! What a sweet, sad, homely, cute, little guy!!! I just couldn't resist him in the photos and he lives up to it all in-person, too.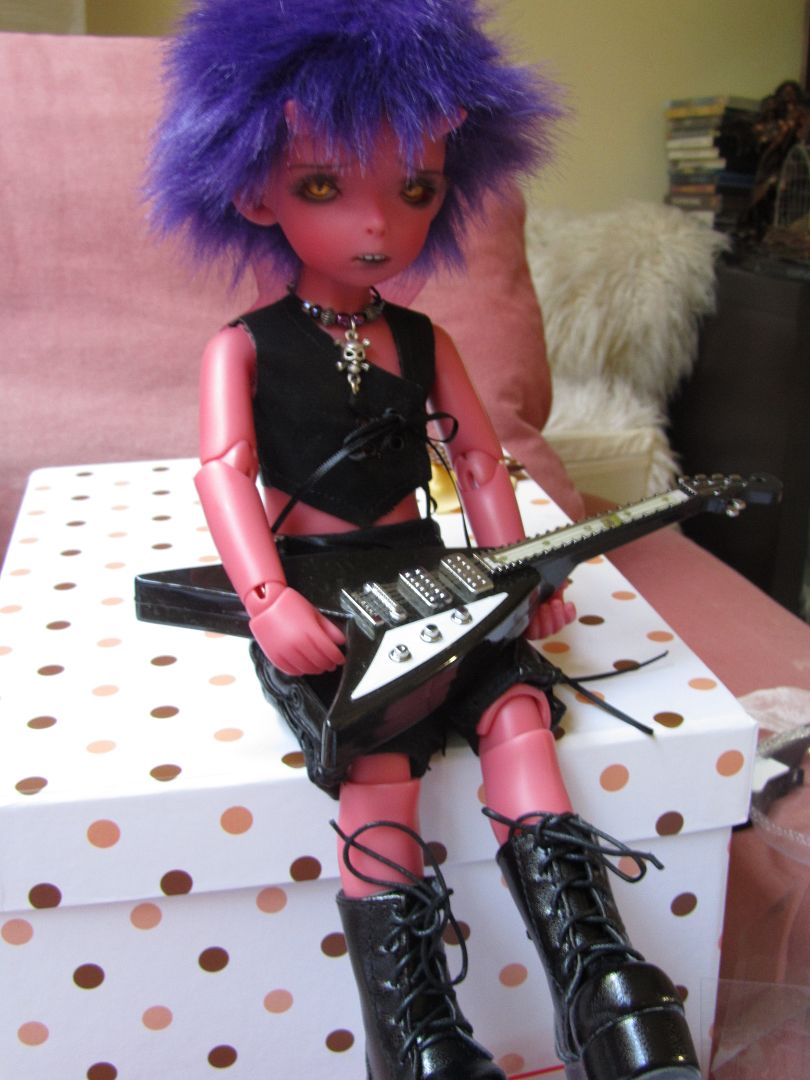 Box Opening: Found a necklace that I'd made for Nightshade that has some purple in it and fits Nik perfectly! And yellow cat eyes from Dollmore (14mm), and black DollHeart boots. Need some cuffs or something... But, wow. He came together faster than I thought! Yay!
Got another wig--from beachgirlnikita...
And posing with the bunny-fur foxes...