Australian doll artist, Kaye Wiggs, has been producing her sweet dolls and selling them through Jpop Dolls. I purchased a Koneko by her in 2010 (my very first MSD-sized doll). BJDs are horribly addicting, and Kaye Wiggs's dolls are even more addicting than most, but I seriously hoped that I would be happy with one. Heh.
Nelly was appealing because of the fantasy theme (hooves and ears). I loved the idea of a green-skinned girl, a color she was originally released as... but I resisted Green Nelly. Somehow, I didn't manage to resist the White Faun version. I don't know why. Just too cute in the photos, I suppose. It doesn't seem to take much these days! *____*
NAME: Snowberry
SCULPT NAME: White Faun Nelly
COMPANY: KazeKidz, Kaye Wiggs Dolls. (Australian based artist.)
SIZE: SD, Large-sized (53 to 55cm size)
HEAD SCULPT: Nelly.
BODY SCULPT: Nelly
SKIN TONE: White
MAKEUP (Faceup): default
PURCHASED FROM: Kaye Wiggs through Jpop Dolls
PURCHASE DATE: October 3, 2011, arrived February 5, 2012; Original Owner CAME WITH: Glass eyes (blue, 16mm). Extra faun hoof parts. Post-card sized certificate. Kaye Wiggs calendar.
From the "Box Opening" shots. Kaye Wiggs dolls come in little pouch-pillows with a drawstring at the end. Large one contained the doll with human feet. Small one contained hooves and lower faun legs. Also included: Postcard/Certificate, mini calendar, 16mm eyes.
Box Opening: Fresh out of the wrapping-- Standing. Posing, not bad. Arms a little kicky. String nice and tight.
OPENING: Inside of head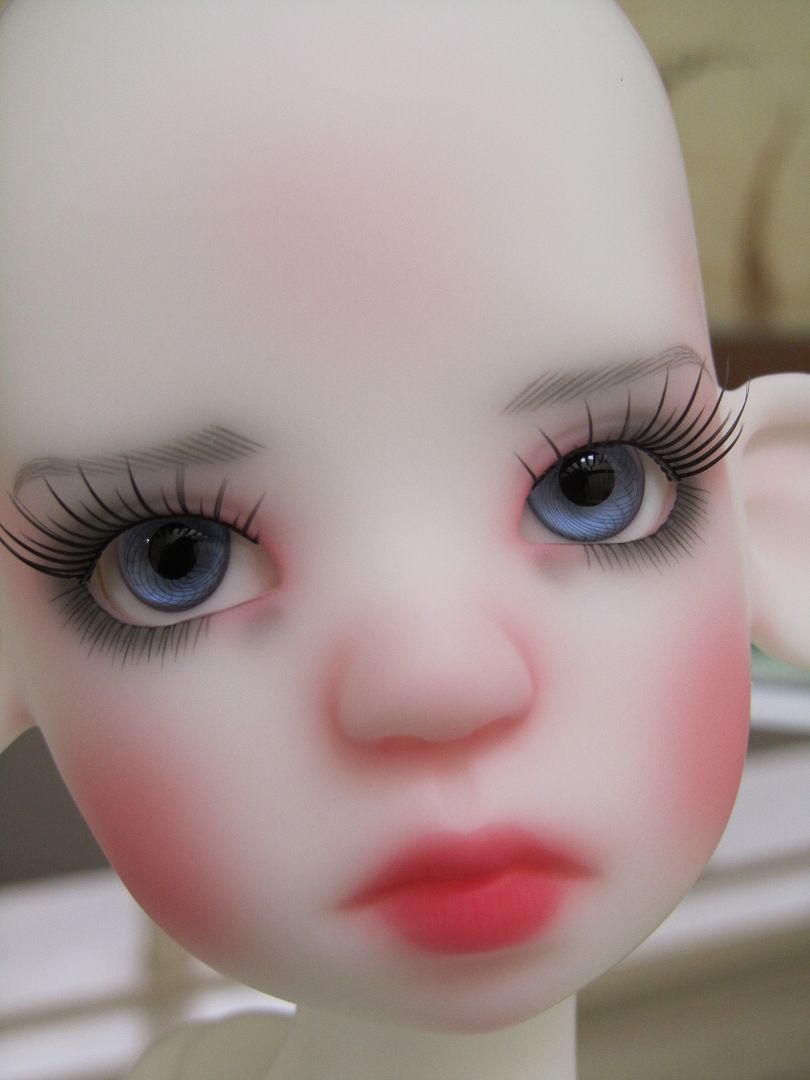 OPENING: Close up of faceup. Her lips were pretty much all one color... very hard-to-see lip lines. Nice fine lines for lashes and brows. I think I might tinker with it, though...
First-- blushed hooves and lower legs in a blue-ish grey. Used Acrylic Gloss for hooves.
Made a slightly harder lip-line on upper lip and darkened the line where the lips meet each other. Also drew, very lightly, some lighter lip lines. Slightly lightened/erased the outer edges of her eyebrows. I didn't want to change her faceup at all, just tweak it a bit...
She is wearing a gorgeous one-of-a-kind dress by AT-Atsuri of Poland. It is a Zaoll-size (for slender SDs) and fits her perfectly. The wig is a pale green Jpop.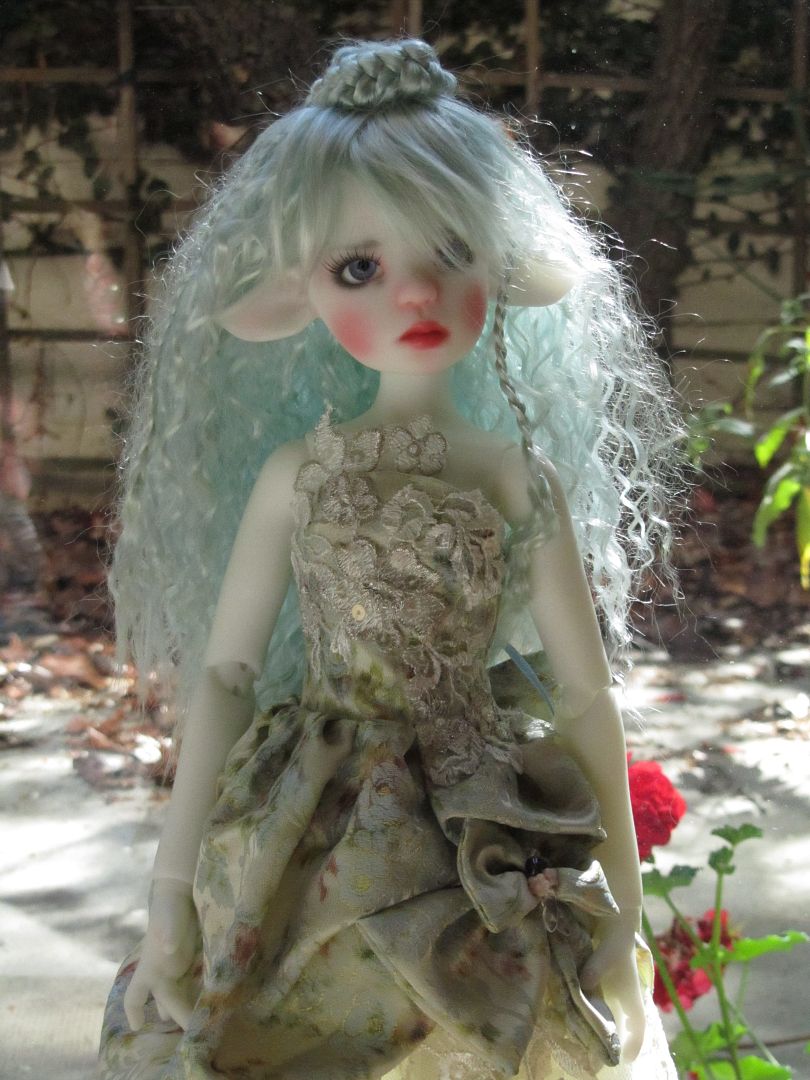 I bought the dress while waiting... Such a dangerous time!!! *___*
Change of background and lighting...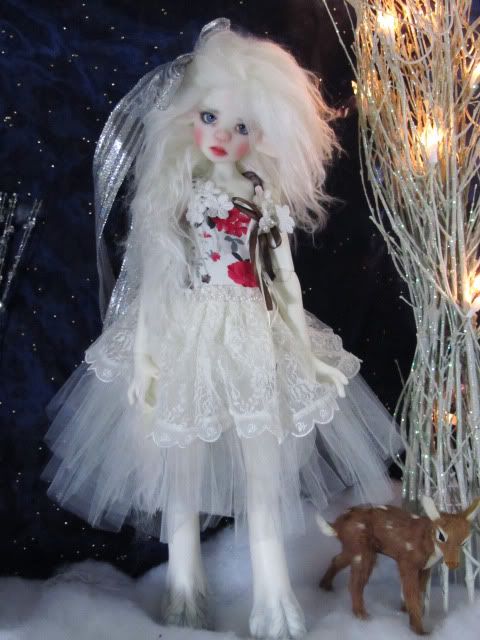 Christmas 2012. Another lovely AD-Atsuri (DoA and Etsy) dress, with lovely long natrume (DoA and Etsy) mohair wig.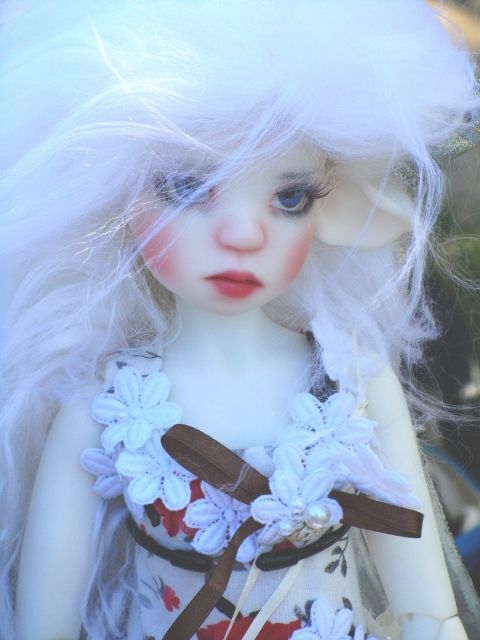 Santa Barbara Meetup, March 2013..