WELCOME TO MY PAGES!
.
---
.
I have set up a new ILLUSTRATION PORTFOLIO Site.
Please CLICK on image--->

.
---
.
NEWS-FLASH!!!
ILLUXCON-- OCT. 19-23, 2016, Reading, PA. I will be in the Artist Showcase.
I am not planning on any other Cons or Shows in 2016.
So---- Someone recently auctioned off the Original Painting of my Magic Card, "Lotus Petal" from the Tempest exp., 1997. Starting price $1,500.00. SOLD at $26,700.00 !!!! Wow. This was NOT MY AUCTION (unfortunately!). Just kind of cool to know about!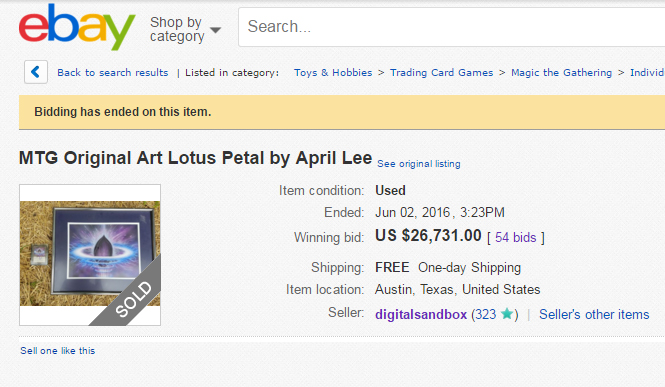 .
---
SITE UPDATES
2016/5-- Updated: LINK to NEW Illustration Portfolio Pages.
---
WHAT IS FOR SALE???
Unfortunately, I don't have a proper shop set up here. I am trying to figure out a good way to post what is for sale. Currently, I have many originals and a fair amount of digital and film prints on photopaper. Some of the images in the GALLERIES will indicate if I have prints or originals available, but my system isn't terribly exact, so please ask by email if you see someone you like. I will also try to indicate what prints I have in my LIST OF CARD GAME ART.
PRINTS are chromira and photographic prints, most are 8.5" x 11" for $27.00 each plus shipping (around $5.00 for Priority, in U.S.). They are all individually SIGNED and NUMBERED, limited editions. Please note down which images you are interested in and Inquire by E-mail: aprillee@lycos.com . If I don't answer, please assume the email was eaten by my awful spam-filter and try again, thanks!
ORIGINALS are all priced individually, running from $75.00 to $1,500, but averaging around $100 to $200. Please Inquire by E-mail: aprillee@lycos.com
---
THE COPYRIGHTS
Site's content is copyrighted to April Lee and various Companies where noted, 2007. Please Do Not Post Any of these images anywhere on the internet without permission--or use them for other purposes (including Tubes, Avatars, Icons and Altered Images). Many of these companies have legal departments that will defend their copyrights. Thank you for your consideration.
---
This Page was Designed by Summer Skies.