LINKS
---
Last updated: 2013.09
---
In case you got here framed within a linked Page, my copy-&-paste URL is: http://www.aprillee.com
In case my email links don't work, my copy-&-paste address is: aprillee@lycos.com
---
MY OTHER ONLINE GALLERIES:
EPILOGUE, Fantasy and Sci-fi at their best -- Website Artists Gallery.
DEVIANT ART,-- Website Artists Gallery, but not updated often.
WIZARDS- CARD SEARCH,-- Magic Cards by April Lee.
WHEEL OF TIME WIKI,-- Images by April Lee.
---
MY ON-LINE CREDITS, BLOGS, INTERVIEWS and FEATURES:
APRIL LEE WEBSITE FREE BANNERS--for use in making links to this website.
MOBY GAMES--DEVELOPER BIO--Computer Games, brief bio and links and listings of Games and Game Credits.
APRIL LEE--Wikipedia entry.
LINKEDIN--April Lee profile.
APRIL LEE--IMDb entry (ignore wrong photos).
MY LIVEJOURNAL--Sorry, very little art-talk or posting on my LJ. It's mostly dedicated to personal stuff and my BJD hobby.
Dreams and Shadows--Another Blog, but I rarely post here. More art related, usually x-posted on LJ and DEVIANT ART.
SPECTRUM- The Best in Contemporary Fantastic Art-- List of Spectrum Artists.
CELESTIAL HEAVENS-All things Might and Magic.-- 2002 Interview.
PEDESTAL MAGAZINE-Featured Artist (Apr-Oct 2002).
---
COLLECTIBLE CARD GAMES I'VE WORKED ON:
LEGEND OF THE FIVE RINGS (Alderac Entertainment Group)
MAGIC: THE GATHERING (Wizards of the Coast)
SHADOWFIST (Inner Kingdom Games)
WARLORD(Phoenix Interactive)
XXXENOPHILE (Slag-Blah Ent.)
---
COMPUTER GAMES I'VE WORKED ON: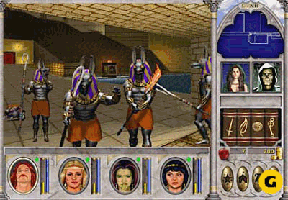 Screenshot featuring my 'Jackalman' Anubis from "Might and Magic 6", New World Computing © 97.
MOBY GAMES--Rap Sheet--Person: April Lee--Auto-Generated Summary of Game Credits (incomplete).
THE WYRMKEEP ENTERTAINMENT--Publisher of "Inherit the Earth: Quest for the Orb".
---
FANTASY AND SF ARTISTS:
HEATHER BRUTON--fantasy art, prints and originals.
NENE THOMAS--beautiful fantasy and fairy art, calendars, books, prints, and figurines.
RUTH THOMPSON-official fantasy art site, prints, originals, merchandise.
ALLEN WILLIAMS--Concept artist for film and games, books, prints, art blog and more.
TERRIE SMITH--Premier anthropomorphics (anthro / furry) artist, comic book and fantasy artist. Originals, prints, commissions.
DIANA STEIN--Naiad Studios. Lovely, fun, cute antasy and anthropomorphic art, prints, etc.
MORE ARTISTS/ILLUSTRATORS/COMICS
ROB ALEXANDER--Fine art, editorial, prints, game, art instruction books and book cover illustration.
RANDY ASPLUND--Art of the Fantastic.
ED BEARD JR.--Fantasy art, prints, illustration and more.
THERESA BRANDON--fantasy art, card game art, book covers, and wonderful children's book illustrations.
CRAIG R. BRASCO--Art Gaming and Concept Art.
TOM BAXA--Fantasy art, prints, illustration, concept art for electronic games and film, storyboards, comics, art for Magic: The Gathering, White Wolf, D&D and much more.
PAUL CARRICK--fantasy art, card and game art, full-color paintings and very striking black and white images.
JHONEIL M. CENTENO--SF/Fantasy illustrator and Fine Artist, who is also a fellow computer game artist and graduate of Art Center College of Design.
RONALD CHIRONNA--fantasy, SF, gaming, book, magazine and editorial art--strong, vivid color and accomplished B&W pieces.
BLISSDREAM: MICHAEL CLARKE--Art and Illustration.
STORN A. COOK--Illustration.
ED COX--Science Fiction and Fantasy art; bookcovers, prints, etc.
LIZ DANFORTH--Artist of many Middle Earth and Magic cards; illustration, art and design.
DARK NATASHA--Top quality Anthropomorphic (Furry) and Fantasy Art.
SUE DAWE--Renowned illustrator of unicorns and pegasi, and much more.
TONY DiTERLIZZI--Beautiful fantasy art and children's book illustration.
TINA DRUCE-HOFFMAN--Illustrator: Color and b&w fantasy, card games.
DARRYL ELLIOT--fantastic monochrome/b&w art --also card and gaming art and much more.
LARRY ELMORE--His art has almost single-handedly defined Fantasy Role-Playing Game imagery; warrior men and women fighting treasure-hoarding, fire-breathing dragons, what more could you ask for?
CARL FRANK--Custom illustration for professional publishers: magazines, books, games, music.
DONATO GIANCOLA--DONATO ARTS--bookcover, game art, fine art; a great talent in the F/SF field.
THOMAS GIANNI--Fantasy and Science Fiction Artist.
ADAM GLAZER--STUDIO INNER SANCTUM--Art and illustration.
MATT HARPOLD--Fantasy art and illustration.
COMPLEMENTARY COLOR--THE ART OF LOUIS HENDERSON--mainstream (not fantasy/SF) fine art, commercial illustration, digital and traditional media.
JUSTIN HILLGROVE'S IMPS AND MONSTERS--Delightfully quirky.
JON HODGSON--Illustrator.
QUINTON HOOVER--Life and Times--Most known for his Magic Card art, but does work for comics, book and magazine covers, and more. Gone but never forgotten.
HEATHER HUDSON--Fantasy art and illustration; RPGs,CCGs, etc.
LISA HUNT--illustrator/author of Celestial Goddesses, The Celtic Tarot, Shapeshifter, etc.
LLYN HUNTER --Her Deviantart page: Illustration, storyboards, animation, etc.
IGINO--Fantasy and Science Fiction Art: Online portfolio.
HUGH JAMIESON--fantasy and game illustrator.
VERONICA V. JONES--MoonShines--fantasy art.
MICHAEL WILLIAM KALUTA--One of the greats of contemporary illustration; fantasy, sf, comics, book covers.
AVI KATZ--Art and Illustration from Israel.
TOM KIDD--Also known as "Gnemo", he's created some of the most splended cityscapes recalling a fantastical, steam-punky Gilded Age that never was... Originals, books, prints, designs, book covers.
STEPHANIE PUI-MUN LAW--Shadowscapes--lyrical fantasy art.
CHUCK LUKACS--Illustration-- art for card games, Magic, etc.
TAMING LIGHT----The art of Robert MacNeil. Illustration, Concept Design, Graphic Design, plus mainstream non-fantasy art and design.
THERESA MATHER--Fantasy art and prints.
MARCI MC ADAM--illustration and cartooning, furries and comic art.
MALCOLM McCLINTON--Hanged Man Studio--Deviantart page.
KEN MEYER JR. --Fantasy, gothic, sports, music, game art and illustration and prints.
RAVEN MIMURA--Fantasy Illustrator: gritty, gothic-horror color, fantasy and b&w work.
SONAMBULO!!!--ultra-cool comic book by Rafael Navarro.
MARGARET ORGAN-KEAN--Fantasy, game art, editorial, children's book illustration.
RAMON PEREZ--Calavera Studio.
MICHAEL PHILLIPPI--Concept art and illustration.
rk post--A top fantasy and game artist.
FLYING ARMADILLO--AMY PRONOVOST--Art and commissions.
ALAN RABINOWITZ--Illustration & Fantasy Art.
ERIC REN--Fantasy, game and SF tech art.
DAN SCOTT--Fantasy, SF, Game art and illustration.
V. SHANE--Pencils, inks, oils, prints, digital art.
WILLIAM STOUT--One of the greats of contemporary illustration; fantasy, sf, comics, book covers--and dinosaurs!
STRANG-FROST PRODUCTIONS--Fantasy and comics art; commissions and prints.
REBECCA SWEENEY--Fantasy Sculpture, Illustration and Portraiture.
LUART-ART OF LUIS VAZQUEZ--Fantasy art and illustration.
MICHAEL WHELAN--The star of SF/F book cover artists. He's got prints, books, and fine art --everything.
MATT WILSON--One of the best game artists around--great fantasy art and illustration.
ROBIN WOOD--Known for Dragon Magazine cover art years ago--now she's updated, doing her fantastic imagery in 3D-CG.
---
FANTASY ART AND ARTISTS--COMPUTER GAME AND DIGITAL ART:
TRACY IWATA--One of my co-workers at New World Computing, Tracy has designed and drawn or modeled and animated most of the dragons in Heroes 2 and 3 and M&M6 through 9, plus unicorns and minotaurs and more than I can name here.
JEFF BIGMAN--New World Computing and Electronic Arts artist, the homepage of the Fabulous Jeff Bigman contains art, short films, 3D digital art, conceptual designs and photography.
---
FANTASY, SF AND GAME ART GALLERIES AND ART INTERESTS:
SPECTRUM FANTASTIC ART--Spectrum: The Best in Contemporary Fantastic Art: the book, Spectrum Fantastic Art Live: the Show/Exhibition/Art talks, demos, booths. And Fantasy Art Information and News.
EPILOGUE--Fantasy and Sci-Fi online galleries.
SLAWEK'S ULTIMATE GUIDE TO SF/F/SPACE/SURREAL ART ON THE NET--Which pretty much says it all.
WORLDS OF WONDER--Fantasy art, professional, for sale.
ARTIST HELP NETWORK--Artist Help Network(sm), a free information service designed to help artists take control of their careers. The network assists artists in locating information, resources, guidance, and advice on a comprehensive range of career-related topics. The network focuses primarily on subjects of interest to fine artists. People working in the applied arts, arts administration, and arts-related fields will also find this site useful.
CONCEPTART--Forum for conceptual design artists--and related fields.
RPGnet--Forum for Gamers, Designers and freelancers in the RPG field.
CGSOCIETY--Society of Digital Artists--Forum for Computer Generated Art and Design.
---
CONVENTIONS (SF, FANTASY, COMICS, GAMING, COMPUTER ART, ETC.):
GEN-CON, GAMING CON --The major gaming (role-playing, collectible card games, etc.) convention held annually in the summer. Indianapolis. ~60K attendance.
WORLD SCIENCE FICTION SOCIETY --WORLDCONS, overall information on the major science fiction (mostly literary, but some media) conventions held annually--usually over Labor Day Weekend. A very good SF/F art show.
SAN DIEGO COMIC CON INTERNATIONAL--Huge Comic (and other media) convention held annually in San Diego in the summer. Plus smaller conventions.
DRAGON*CON --Major Comic/Gaming/SF/F Convention held annually in Atlanta.
CON-DOR --Small SF/F Convention (very much a relaxacon) held annually in San Diego in the early spring.
SIGGRAPH Conference and Organization for Computer Graphics.
---
DOLLS, ASIAN BALL-JOINTED DOLLS (ABJD, BJD):
DEN OF ANGELS--the main, largest, forum for the Asian Ball-Jointed Doll Hobby.
BJD COLLECTASY--BJD News Site.
VIRESSE'S HAVEN--This is my site for my Ball-Jointed Doll (BJD) hobby.
VIRESSE'S JOURNAL--This is my livejournal, mainly (but not always) for my Asian Ball-Jointed Doll(BJD)hobby.
---
BOOKS/LITERATURE:
GOODREADS--Latest, greatest Book/Readers/Authors Group, Discussion, Reviews, and book-shelving social site.
SHELFARI--Book/Readers Group and Discussion and book-shelving social site.
LIBRARYTHING--Book/Readers Group and Discussion and book-shelving social site.
---
FANTASY ART AND ILLUSTRATION CLASSES AND WORKSHOPS:
ILLUSTRATION MASTER CLASS--Best week-long intensive Fantasy Art/Illustration workshop ever.
SMART SCHOOL--Intensive Fantasy Art/Illustration online mentorship/class with top Fantasy Artists.
TLC WORKSHOPS--Fantasy Art and Illustration Workshops in Seattle, WA area.
---
SCHOOLS, UNIVERSITIES, COLLEGES:
ART CENTER COLLEGE OF DESIGN--This is where I got my BFA in Illustration. Some people love it, others hate it. But it is one of the few schools that has top level programs in Illustration and Graphics and Transportation Design, etc.
OXFORD UNIVERSITY--As hard as this may be to believe, I actually have a BA/MA from Oxford (I am a member of St. Hilda's College's SRC). I matriculated in and read Modern History, special subject-20thC.European, and was far from brilliant on my Final Exams, but at least it wasn't a Pass (and there were extenuating circumstances, I swear!).
MOUNT HOLYOKE COLLEGE--Located in the beautiful setting of South Hadley, MA, this is one of the finest Liberal Arts institutions in the US (and the world), one of the Seven Sisters, one of the earlier colleges founded, and definitely one of the first and last all-women colleges. I have wonderful memories of my time there.
UNIVERSITY OF EDINBURGH--While I don't have a degree from here, I did spend my Junior Year Abroad at this great university located in the midst of the majestic city of Edinburgh, Scotland, where I studied English Literature, Archaeology and English History.
ORANGE COAST COLLEGE--Community college in Costa Mesa, CA. I took a ton of basic art courses there.
CALIFORNIA ART INSTITUTE--Small local school for art classes.
---
THE COPYRIGHTS
Site's content is copyrighted to April Lee and various Companies where noted, 2007.
This Page was Designed by Summer Skies.