I've been adoring Kmiro's customizations (original painting of heads) on ebay for a long while, but had thought they were too expensive. I eventually caved-in, of course. I just loved Kmiro's wonderful photographs of this gorgeous guy. They are MUCH better than mine, but her super-fine, detailed painting holds up to the closest inspection and the most mediocre photography.
This boy reminded me a little of two of my story characters, Gwydion (or Gwynn), the leader of the Wild Hunt and Coreleyn, a harper. As with most of my dolls, he's able to play various roles and could be either of my characters--and any others he wishes to aid and inspire me with..
NAME: Gwynn, name from customizer, Kmiro Creations
COMPANY: Volks (Japan based co.)
SIZE: Dollfie (1/6 scale. ~27cm size, 11-12", Barbie's Ken-sized)
HEAD SCULPT: Volks- CHH GO01?? type/ Natural Skin, Center Parted, Silver ??
BODY SCULPT: Volks—Neo-EB GO/Natural skin
SKIN TONE: Natural skin
MAKEUP (Faceup): Kmiro Creations (ebay)
PURCHASED FROM: Kmiro Creations (ebay)
PURCHASE DATE: June 2008; Original Owner
First Photoshoot--mandolin from ebay.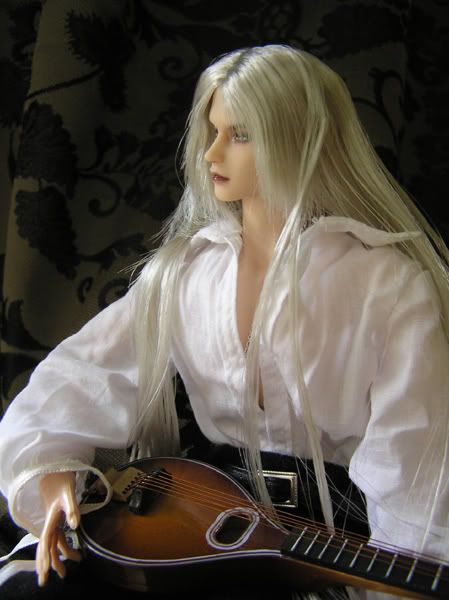 Clothes: Jude Devereaux Ken outfit.

I can't tell you how much I love this gorgeous boy...