Kaye Wiggs was a notable doll artist before there were ABJDs, and I first heard her name when I was looking at Artist Porcelain and Vinyl Dolls (she sculpted first porcelain doll in 1990). She has been producing her own line of resin BJDs for a number of years (she made her first resin BJD head in 2004). Most have been Mini-sized, which was a size I was trying to avoid (I'd need different wigs and clothes and shoes, etc.), but I finally caved when she made a blue-skinned cat girl that was somewhat Na'vi-like, as in the beings from the film "Avatar."
Koneko was offered for sale for a limited period, sold through JpopDolls, and available in either Blue or Tan skin tone. She's not On Topic for Den of Angels Forum because of the "Asian aesthetic" rule (although some of Kaye's dolls are On Topic, which is odd). Kaye and others run a BJD forum called The Resin Cafe, so I could happily chat about dolls there, which is always nice when waiting for a new doll. I love having company while I wait, so making a Waiting Room thread there was imperative. And it was great having Kaye on the board, and Grace of Jpop, because they could keep us updated on the production of our Konekos. It was also lovely to meet more doll people there.
I loved the "Avatar" film, so that was a big reason for getting a Blue Koneko, aside from always having an eye on Kaye's dolls. Koneko blended the sweetness of Kaye's style with the more fantastic elements that I enjoy, so Blue Koneko was a must. I had also wanted to try a doll in MSD size, particularly as dolls seemed to be just getting bigger and bulkier (not that I minded that, but a smaller sized one just was more welcome at that point).
NAME: Kiyeri (inputting "kitty" into a Na'vi Name Generator...which are pretty much random).
COMPANY: KazeKidz, Kaye Wiggs Dolls. (Australian? based co.)
SIZE: MSD, Mini-sized (~42cm size)
HEAD SCULPT: Koneko.
BODY SCULPT: Koneko--similar to Annabella, but with additional cat-like hands and feet and tail.
SKIN TONE: Blue (was also available in Tan)
MAKEUP (Faceup): default
PURCHASED FROM: Kaye Wiggs through Jpop Dolls
PURCHASE DATE: July 11, 2010, arrived October 4, 2010; Original Owner CAME WITH: Glass eyes (blue, 16mm). Extra cat parts: hands, feet, tail. B-Card sized Info card.
From the "Box Opening" shots. Dressed in Swan20 ooak outfit, Jpop wig, default eyes.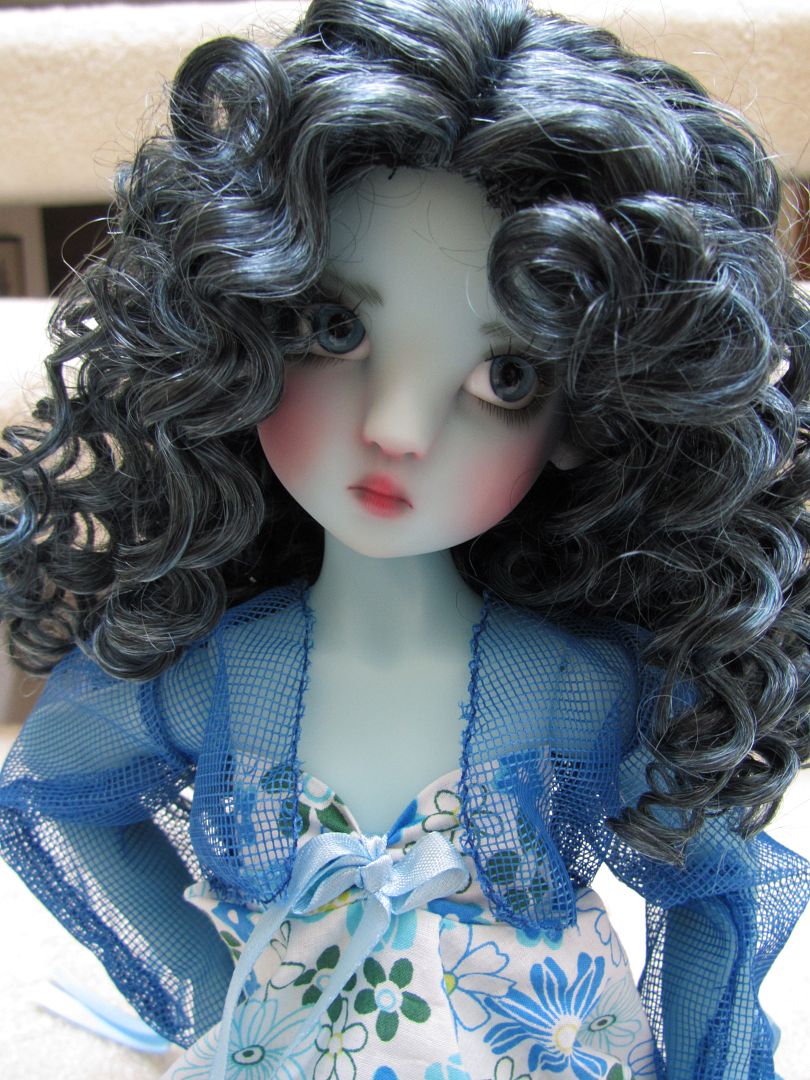 Box Opening: Trying on a ooak dress by Ayase001/Colors.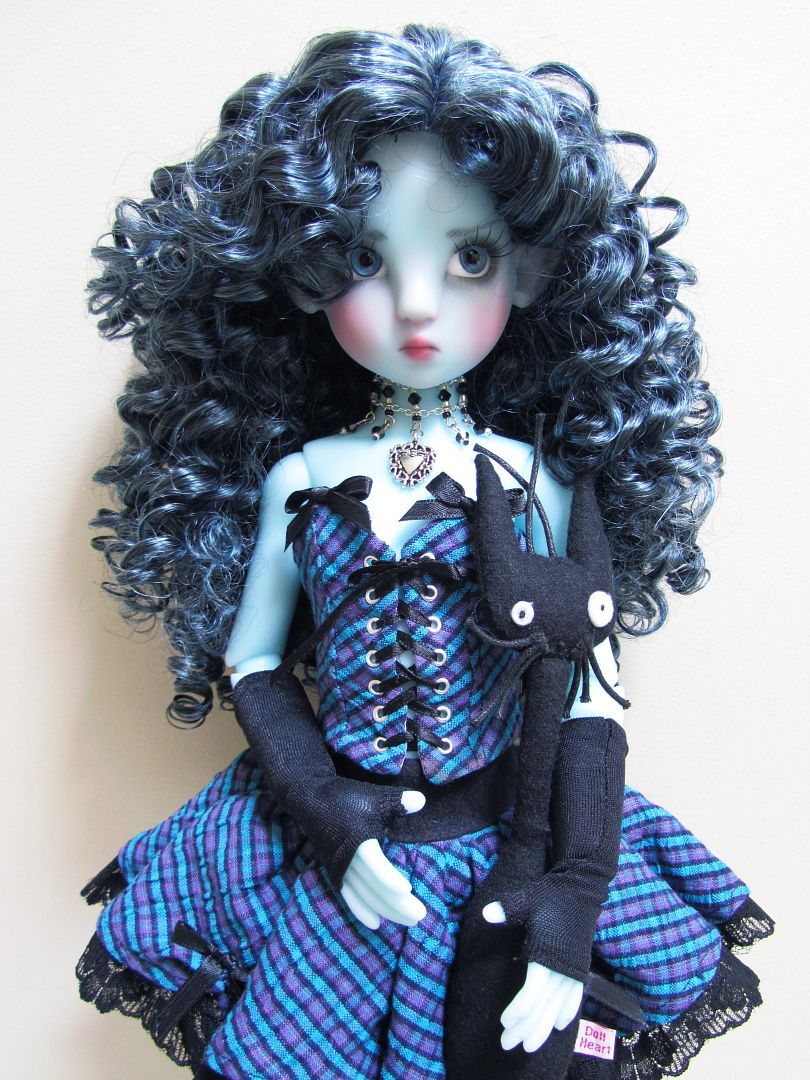 Another dress by Divas*By*Design. The cat is by Val Zeitler/DollHeart/HauteDoll.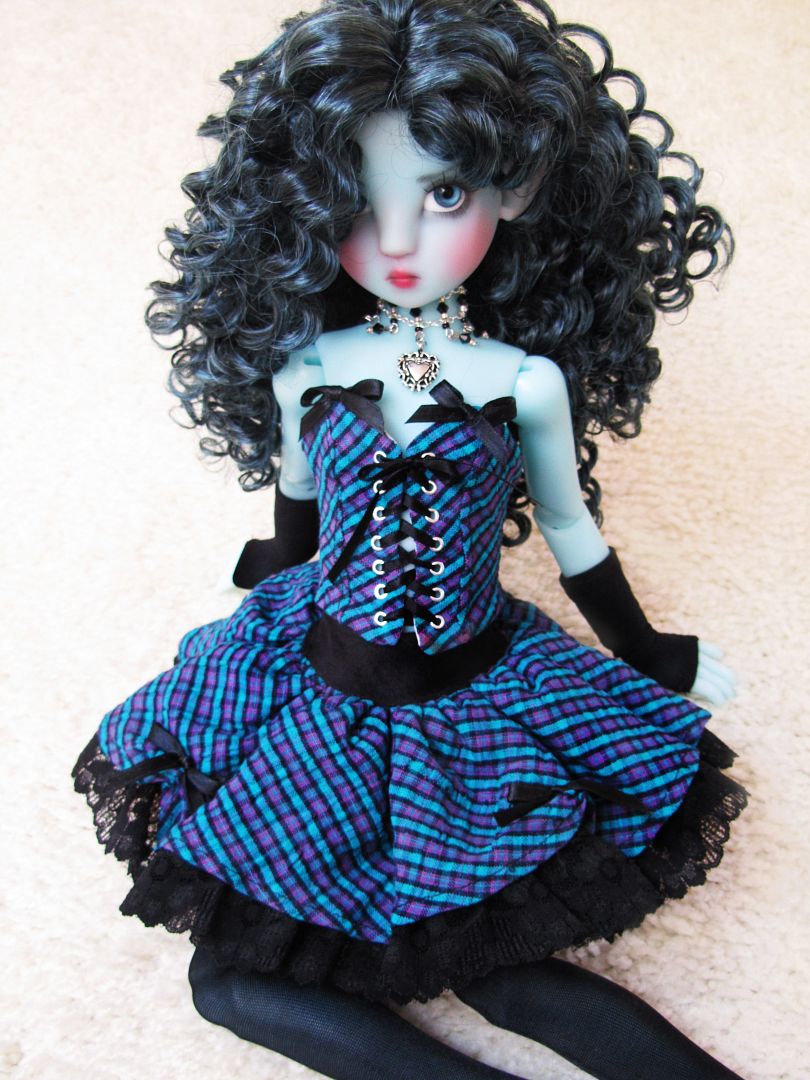 Fantastic dress by Michelle Hardy. Wig by Darkmothflame.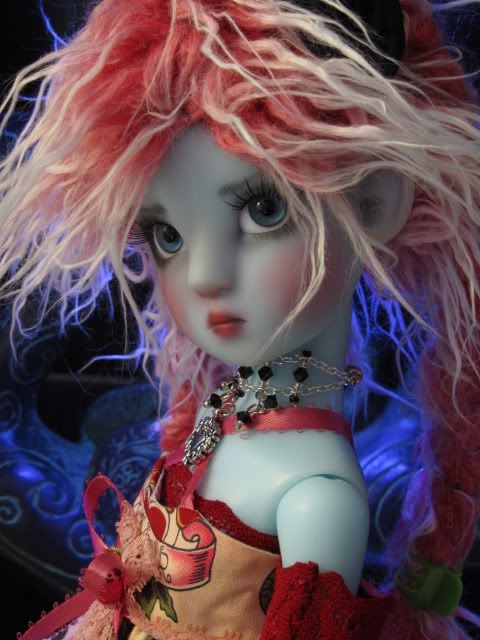 Blue and pink aren't colors I'd have thought would work so well together...
Kiyeri in the garden... er... jungle.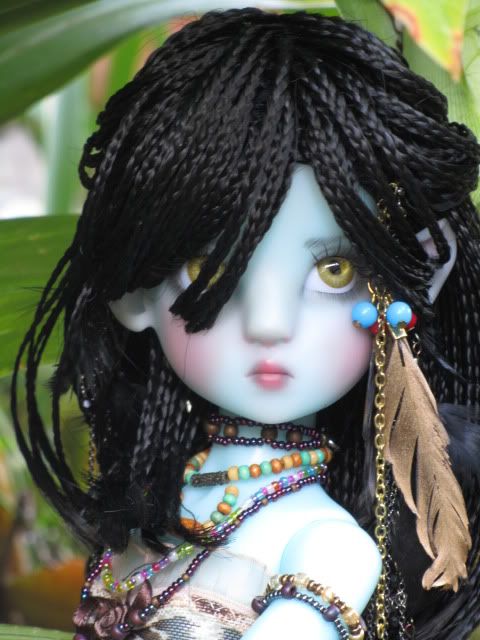 Wearing lingerie by Beachgirlnikita and poshdolls braided wig and jewelry by darpie and ohers and me.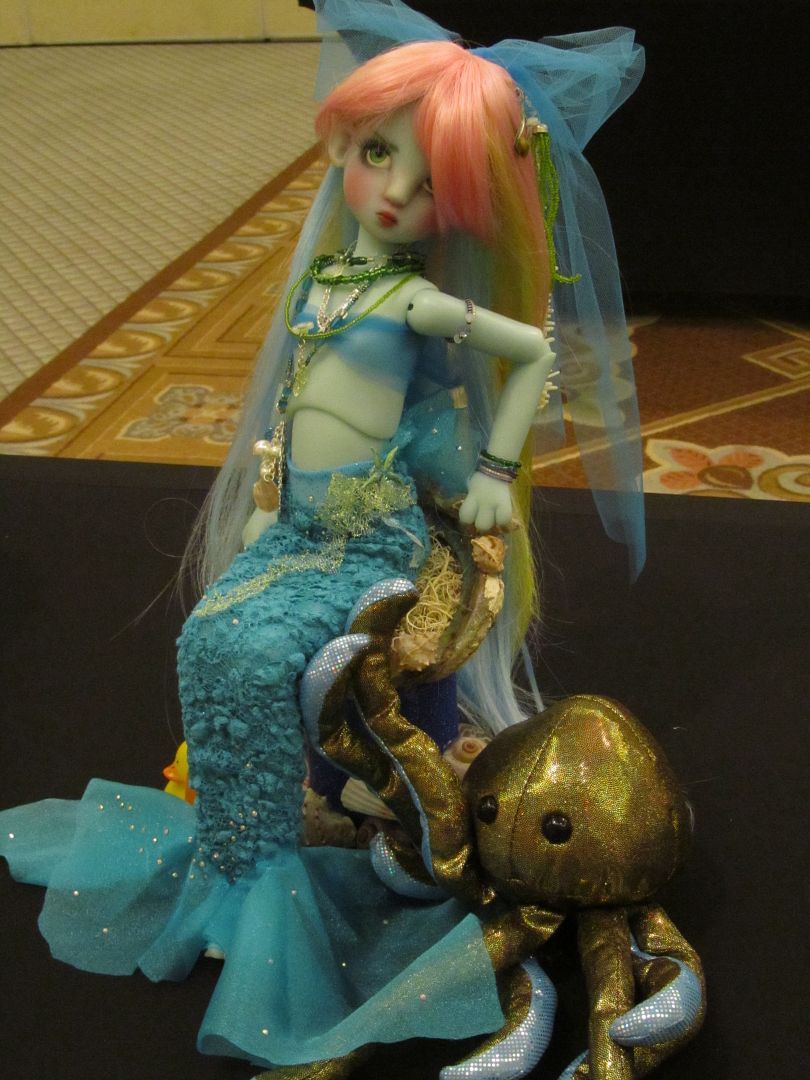 At the Austin, TX BJDC, August '12, in the Presentation Contest, wearing mermaid tail by Angel kat on DoA.