After buying Feylin, my Immortality of Soul (IOS) Blood, he seemed a bit lonely (the dolls rule, here!), so of course I started looking for another IOS doll for him. Why another IOS doll? Well, I typically like to match my dolls with others from the same company. And I was really pleased with IOS sculpts and the joint designs, so I figured--why not?
I must admit that with both of these dolls I had former characters in mind... Feylin reminded me a little of one of my EQ elves, Feyhr, and so I looked for a Havrin for him. When IOS put "S" up for sale, he wasn't very like Havrin, but I thought he could work anyway. I wasn't sure about him at all, but he was different-looking from my other dolls and I like a little variety, even when I'm buying a very similar doll (yeah--pretty crazy). Anyway, my old characters were soul-mates with conflicts. Feylin and Yvaine (whose name I lifted from another old character) have yet to give me their story, but I know they are a pair/couple/partners...
Because Immortality of Soul (IOS) doesn't offer faceups, I had to do it myself... which was OK since I was getting used to it after doing Feylin's. I STILL suck at eyebrows AND lips, but I'm getting a bit better with each one I do, I think. So it was fun to do. Nothing fancy, of course.
NAME: "Yvaine" Yvaine Heilyn Seirian.
COMPANY: Immortality of Soul (Korean based co.)
SIZE: Large, 63cm (~63cm size)
HEAD SCULPT: "S".
BODY SCULPT: 60cm body (same as IOS Blood).
SKIN TONE: New Normal
MAKEUP (Faceup): Me (April)
PURCHASED FROM: Immortality of Soul.
PURCHASE DATE: June 18, 2011, (order period in June 4 to 18, sent out to be made and assembled 25 June to 25 July '11), arrived July 25, 2011; Original Owner CAME WITH: Resin doll only, assembled, with extra s-hooks and postcard.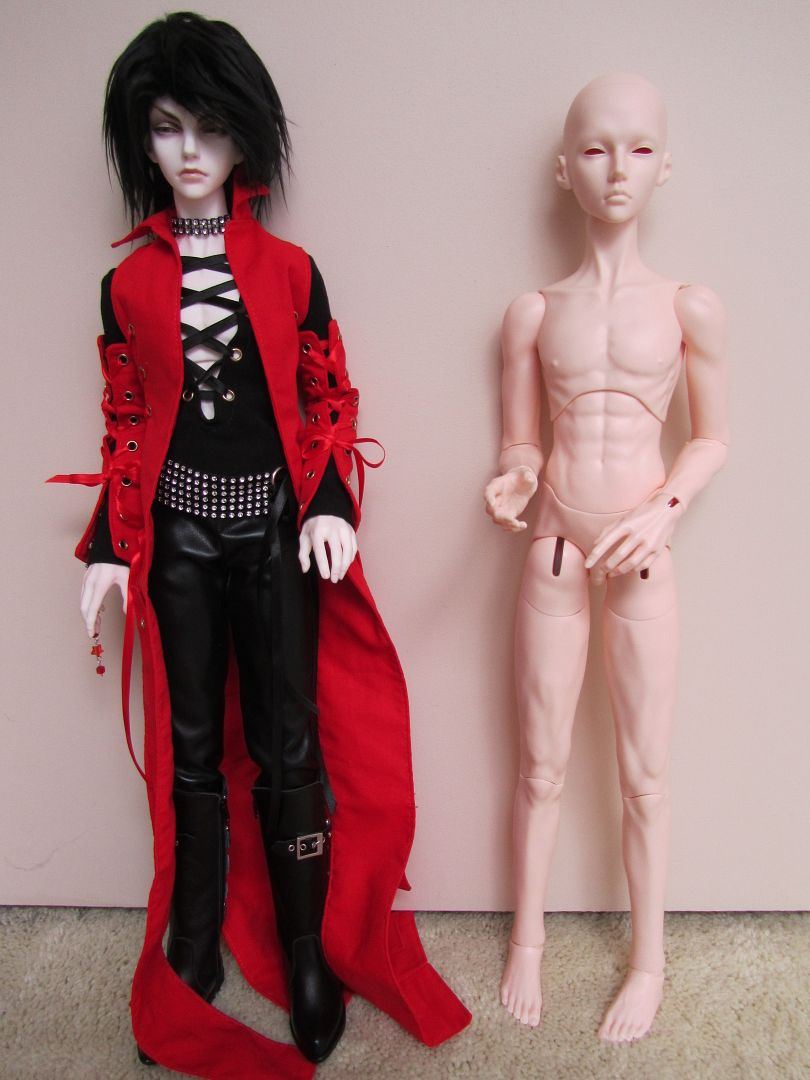 From the "Box Opening" shots. He's totally naked and un-painted, poor guy.
First shots of his faceup. He's wearing an old Dollmore wig and 14mm Volks metallic acrylic eyes.
Yvaine, wearing shirt and corset by Ayase001-"Colors" and Tata's pants.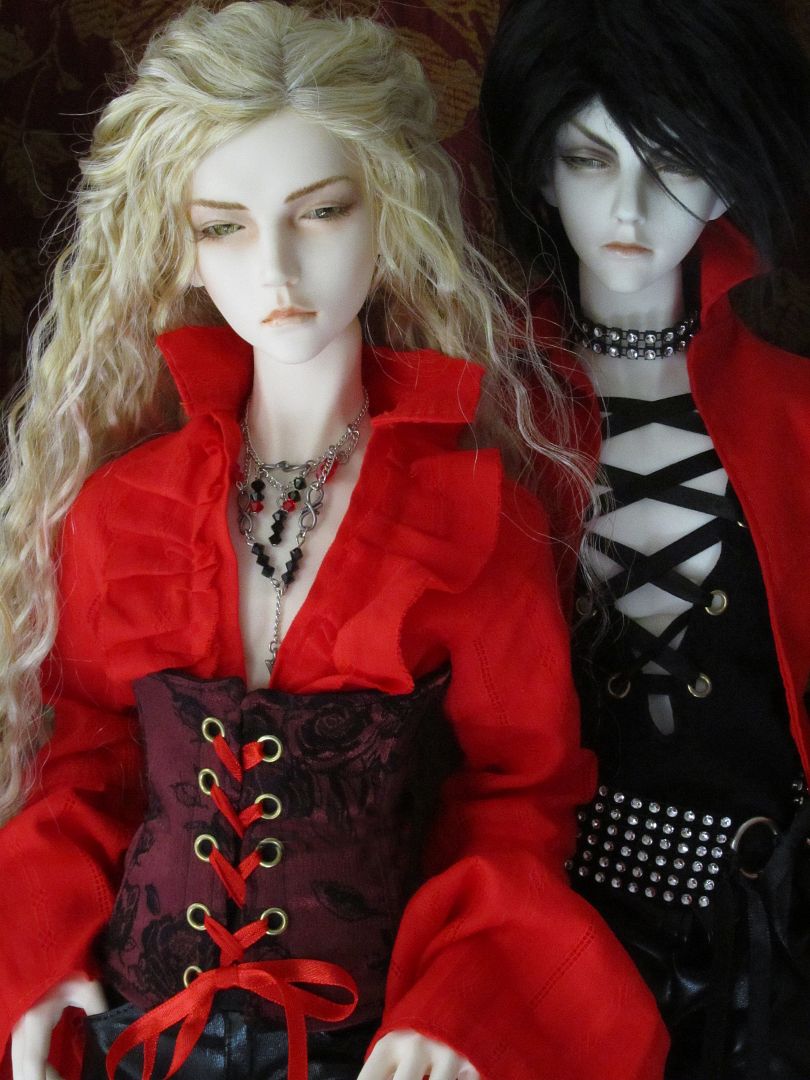 With Feylin, who is wearing a complete outfit by Ayase001/"Colors".
Close up.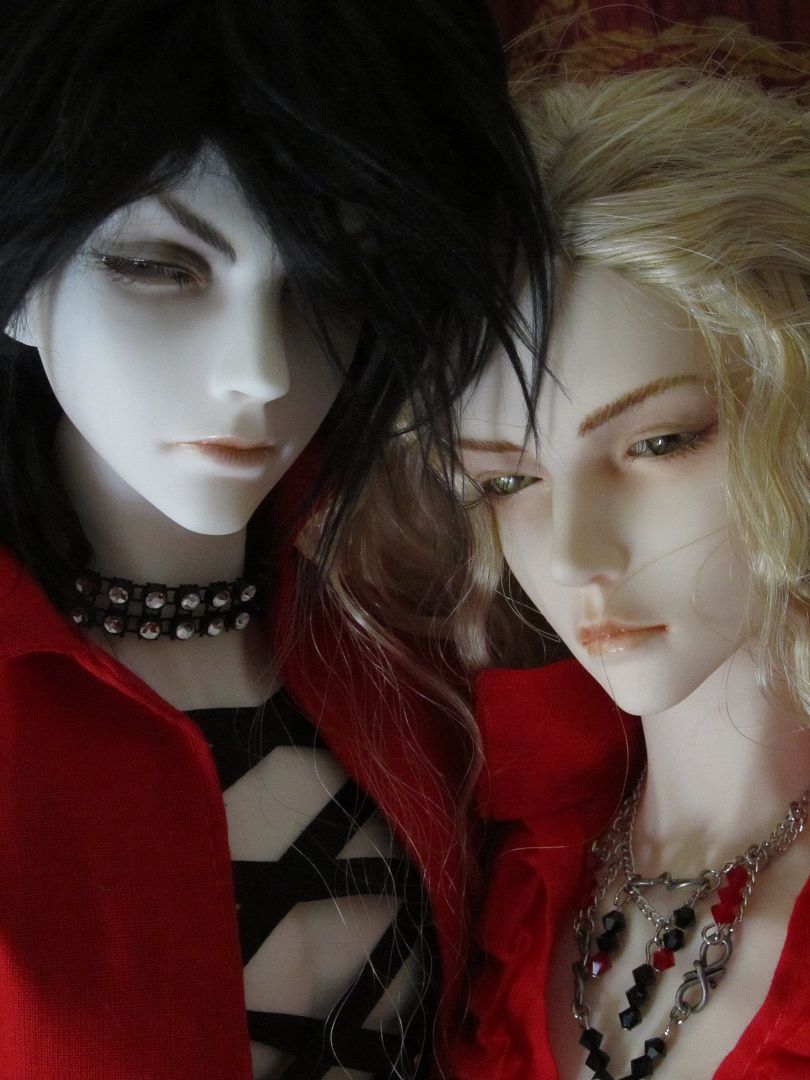 Feylin and Yvaine.
Yvaine wearing a fabulous outfit by Ayase.
He's easy to get a good photo of in low light with that blond hair...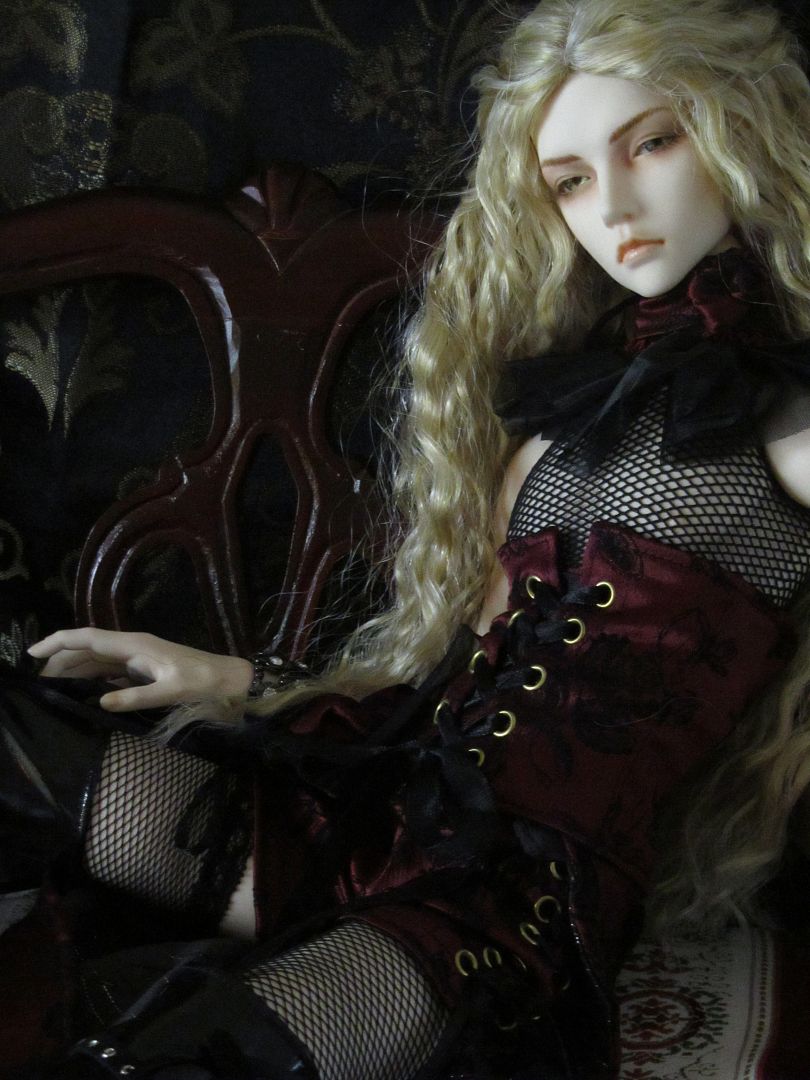 Yvaine seems to like a bit of x-dressing.
and with Feylin.
Feb '12, Solvang Meetup. Yvaine and Feylin in Ayase001/Colors outfits.
Feb '12, Solvang Meetup. Yvaine.